Frugal Sketcher's Dozen
20% OFF when you buy 9 courses plus 3 demos
It's been such a joy creating online courses and hearing from sketchers all over the world, that I wanted to make it even easier for others to join me. That's why I've now packaged my first nine courses and three demos in the Frugal Sketcher's Dozen.
The 'Dozen' represents the most comprehensive tour of my essential lessons: More than 20 hours of intensive instruction to help you "see," plan and sketch in watercolour. To help you grasp the fundamentals. To help you apply them to just about any scene. And, most important, to help you grow as a sketcher and artist.
You'll learn a great deal
Purchased individually, these courses would normally cost $315 USD (or $423 CDN), but I'm now bundling them for $249 USD (or $339 CDN). Join me as we cover essential lessons such as:
Planning and composing your scene

Laying down "good bones" with pencil or pen

Using a limited palette to give your sketch overall unity

Simplifying complex scenes for clarity and focus

Dealing with challenging subjects, such as water and snow, through easy-to-apply techniques

Using shadows, darks and edges to impart volume and presence

Animating your sketch with elements of storytelling 
Throughout, I provide continuous commentary on every decision I make during the sketching process: the what and why of every step. So you can apply what you learn to every sketching situation, both at home and in the field. 

Learn to grow
There's a big, beautiful world out there, and it's up to you to capture it in all its glory. Let me show you how. The Frugal Sketcher's Dozen includes nine full-length instructional courses plus three short demos.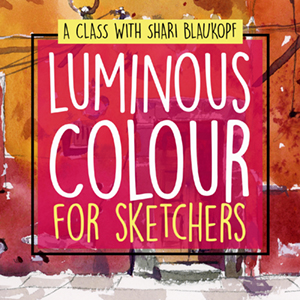 Luminous Colour for Sketchers: Mastering Pigment and Water on Paper
Mix bold, saturated colours by using the right balance of water and pigment
Allow pigments to blend right on the paper
Achieve glowing results by pairing complementary colours
Use triads of colour to change the mood of your sketch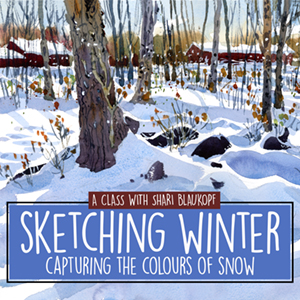 Sketching Winter: Capturing the Colours of Snow
Plan your lights and darks before putting brush to paper
Contrast warm and cool colours to convey distance and add variety to monochromatic scenes
Mix my favourite triad of pigments for painting shadows on snow
Use design techniques to strengthen and simplify your composition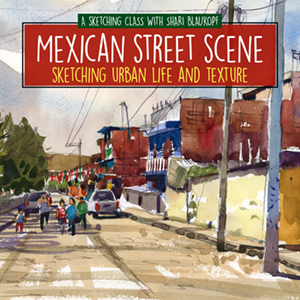 Mexican Street Scene: Sketching Urban Life and Texture
Capture the feeling and character of a specific place
Control the water/pigment ratio on your brush and paper for wet-in-wet skies
Create pictorial focus through contrast and colour
Add people to your scene and give them presence through light and shadow
Mix brighter, fresher colours right on the palette
Use watercolour techniques for fresher and brighter buildings, skies, people and cars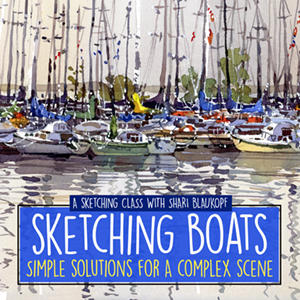 Sketching Boats: Simple Solutions for a Complex Scene
Use pattern and repetition to strengthen your composition
Plan lights and darks before starting your sketch
Use a limited palette to enhance colour harmony in your sketch
Create visual focus with colour, contrast and value

Work from larger shapes to smaller details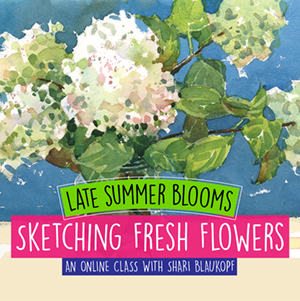 Sketching Fresh Flowers: Late Summer Blooms
Make value sketches for better results
Unify floral sketches by massing blooms into large shapes
Mix my best colour combos for vibrant blooms and foliage
Achieve richer, more complex colours by mixing on the paper instead of the palette
Simplify the complex shapes inside a glass vase
Use the most effective water-to-pigment ratio for painting flowers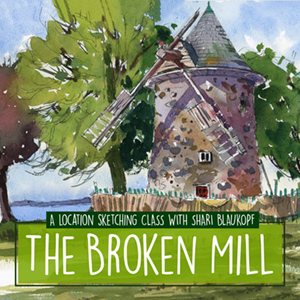 The Broken Mill: A Location Sketching Class
Assemble your own compact, transportable sketching kit

Choose a subject that tells a story

Create a values thumbnail to establish composition, along with lights and darks

Use rough pencil lines to block in shapes and composition

Put down saturated colour the right way, the first time

Combine ink and wash to create a lively under-structure

Use shadows to give your main subject volume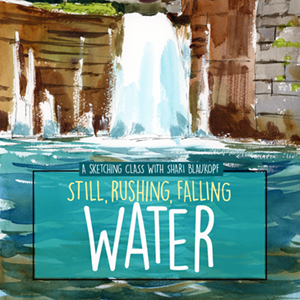 Still, Rushing, Falling Water: Sketching its Wonder in Watercolour
Choose the right brush for getting the best edges on falling water
Load your brush with just enough water to paint waves and texture
Use wet-in-wet technique for painting reflections
Simplify water and reflections on any scene — from puddles to ocean waves
Get fresh results by using the precise amount of pigment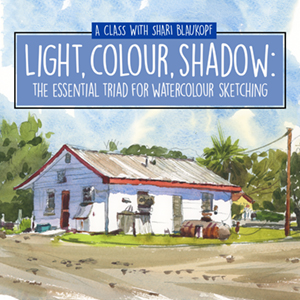 Light, Colour, Shadow: The Essential Triad for Watercolour Sketching
Deploy lights and darks so sunlit scenes come alive
Give subjects form and value by painting their shadows
Mix colours for subjects that are in both sun and shade
Create your own glowing shadow colours
Mix the right water-to-pigment ratio for shadows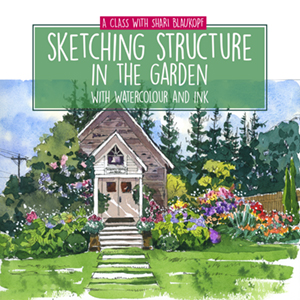 Sketching Structure in the Garden with Watercolour and Ink
Analyze a scene to create a dynamic composition
Paint a wet-in-wet sky
Create more varied foliage colours from my proven recipes
Mix brights and neutrals you can apply to any sketch
Use darks to create more impactful sketches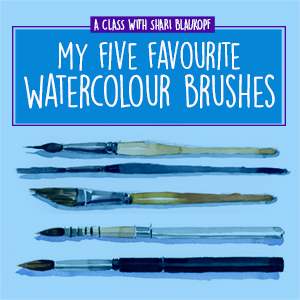 My Five Favourite Watercolour Brushes
The basic brushes I use and why I use them

How each brush produces its own stroke and has its own purpose

The choices I make when buying a brush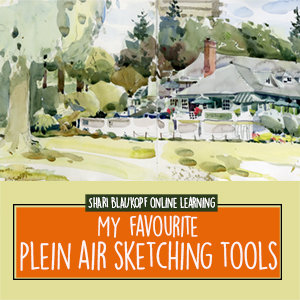 My Favourite Plein Air Sketching Tools
My lightweight, easy-to-carry on-location kit
Why I choose better quality equipment that's comfortable and easy to set up
How it makes travel easier by car or plane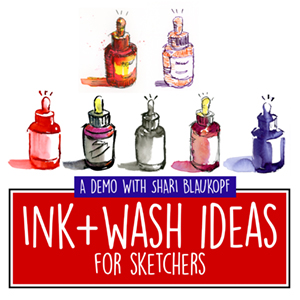 Ink & Wash Ideas for Sketchers
Use unfamiliar sketching tools and colours on a single subject to...
Stretch your imagination
Sharpen your skills
Add fun to your sketching practice
9 courses + 3 demos. 20+ hours. Yours forever.
Once you're registered for these online courses, they're yours to stream as often as you like, 24/7. And you have the ability to pause, go back and review. So you're always in step with what I'm demonstrating on screen.
My full-length courses include:
Downloadable reference photos, so we're sharing the same subject

PDF lists of tools and materials

Bonus tips, such as car sketching in the winter and tips for simplifying scenes
To watch the trailers for each course in the Frugal Sketcher's Dozen, click on "All Courses," above right.
In what order should I watch these courses?
Here is the order I suggest, and this is mainly because this goes from easiest to more complex.
1: Sketching Structure in the Garden
This is the easiest of the courses because the drawing part of it is quite simplified. And you work in ink so there is less watercolour to add in the later stages. And there is just one project.
2: The Broken Mill
This is also one scene, filmed on location, so you will be able to see what I am looking at. It is the logical next step from the Garden course
3. Still, Rushing, Falling Water
This will be a nice change from the Mill class and you will learn to get looser with your washes.
4. Sketching Fresh Flowers
People love this course because there are three flower exercises that are really fun to do, and you will have good practice with the watercolour by now.
5. Light, Colour, Shadow
There are more exercises in this course but by now you will be used to my teaching style.
6. Sketching Winter
The drawing part of this is not too complex, and it will be fun for you to do shadows on snow
7. Luminous Colour for Sketchers
The drawing part of this one is not too complex and you will be used to colour mixing from previous courses
8. Mexican Street Scene
The drawing part of this one is more complex, and there are figures in the scene, so it will take a bit more time
9. Sketching Boats
Probably the most complex of the courses, but you will have had lots of practice.
FAQ
How long will I have access to these courses?
Once you sign up, the courses are yours to watch whenever and as often as you like.
Who are these courses for?
You should have some basic experience drawing, sketching or painting.
What tools will I need?
We'll cover drawing and painting tools in some detail at the start of each course, and you can download a list of materials. If you draw and paint in watercolour, you'll likely have all or most of what's needed among your art supplies.
Will I have access to all the courses at once?
Yes, once you register you'll have access to all the lessons so you can start learning, drawing and painting immediately.
How do I find the courses I am enrolled in?
Once you've enrolled, go to the top of the page and look for the "My Courses" tab. All the courses you have registered for are right there.
Check your inbox to confirm your subscription
Check out my other online classes!