A French Village Scene
Sketching in Ink and Watercolour

A Shari Blaukopf video course
My first trip to France opened my senses to the world. Just imagine — a student from Montreal, traveling alone for the first time, taking her first painting workshop abroad. With all those "firsts," it was exciting and intimidating, and not a little scary. After I settled in, I spent weeks visiting French villages by train and on a borrowed bike. Each village was an impossibly perfect little jewel, with its corner cafes and bistros, its stone walls and cobbled lanes. Places where time had stood still, where people took the time to enjoy life, and its many gifts.
I was happy to return recently to France and stroll again through its villages, to find a shady spot each day, and simply sketch. Even after so many years, the sensations and memories came flooding back. The weathered stone walls, warm light, limpid waters and lush vegetation. The sense, still alive in these villages — if definitely not in Paris — that time passes slowly. That life, too, is best enjoyed by taking the time to savour every moment.


In a sense, that's what this course is about. We'll be capturing and enjoying the colours and textures of a small French village. But also the sense, found in just about every French village, of time's slow passage. We'll take a few moments to think about our sketch. Time to compose and draw, in pencil and ink. And time to apply a range of subtle colours, using only a limited, unifying palette.

So allons-y! Come along as we sketch a lovely French village scene.



Ink and watercolour skills we'll work on in this course
Street scenes can be complex, but I'll show you how to simplify the process.
And even though we'll be working from a reference photo, we'll use exactly the same techniques as I use on location. That way, your final sketch will look as fresh as if you were standing right beside me, in that beautiful French village. 
First, we'll set up the perspective of our main scene in pencil, using a vanishing point to establish all the key lines in the drawing. Then, when everything is in place, I'll show you how I add both the larger shapes and details in ink. We'll choose the freshest watercolour mixes for stone walls, roofs, reflections in water and, finally, trees and foliage.


Course Length: 3+ hours
Skill Level: All Levels

If you love to sketch small towns and villages — both at home and abroad, this course is for you. I'll give you step-by-step techniques for breathing life into these scenes, and show you how to:
Choose the best paper for your all-important pencil and pen drawing and vibrant watercolour washes
Find the vanishing point and confidently set up the perspective in a scene
Convey a "sense of place" by using a limited range of colours
Convey a range of surfaces, textures and shadows in morning or afternoon sun
This course includes:
Two full video demonstrations — from drawing to final touches — that you can watch at your own pace, as many times as you like
A separate practice lesson, where you'll paint swatches of various surfaces in sun and shadow
Closeup views of my brush and paper so you can see the relationship between the wetness of brush and dampness of paper
Downloadable reference images, so you can draw and paint along
A detailed list of materials, as well as a video show-and-tell of tools and materials
A comments section where you can ask questions and post your finished sketches

Check out what you'll learn!

Three key steps to our French village scene: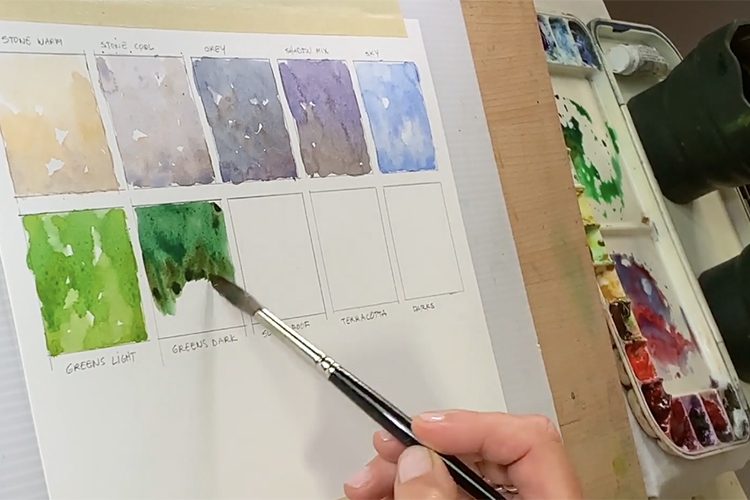 We'll choose the right
tools, materials and exercises to sketch this vivid scene

We'll begin with a practice exercise to get comfortable with hot press paper and the various textures and colours of a French village.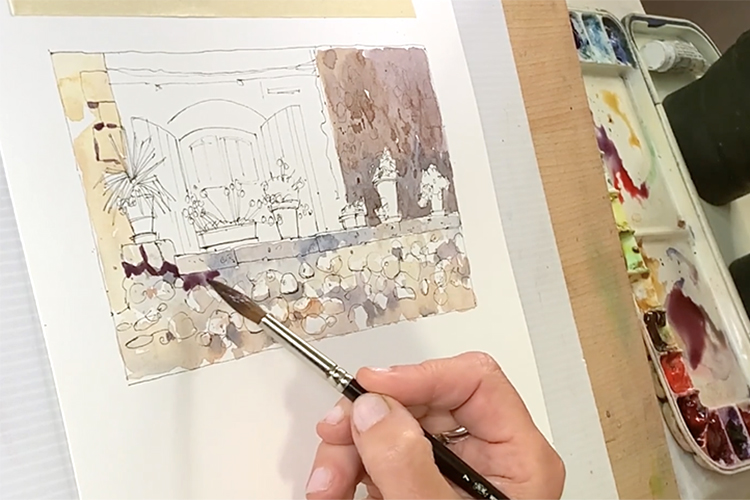 We'll practice my techniques for rendering surfaces
in light and shadow

Painting stone walls in sun may seem challenging, but I'll show you how to layer
luminous transparent washes.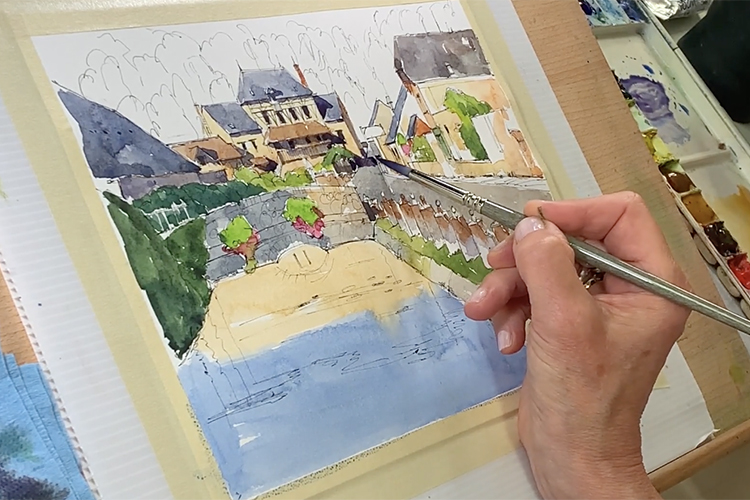 We'll finish with the shadows and details that bring
a scene to life

I'll walk you through the process of adding all the details that give life and vibrancy to this sunlit morning scene.


FAQ
How long is this course?
It's over 3 hours in duration, and includes TWO full-length demos and one practice exercise so you can strengthen your skills.

How long will I have access to this course?
Once you sign up, the course is yours to watch as often as you like.

Who is this course for?
This is a course that any sketcher with basic drawing and watercolour skills can follow. We cover all the steps, including a pencil framework, an ink drawing and watercolour painting. If you are not confident with drawing, you can download the supplied drawing and begin there. However, I firmly believe that drawing is the basis for all representational art. The more time you spend drawing, the more you'll develop as an artist.

What tools will I need?
We'll cover drawing and painting tools in some detail at the start of the course, and you can download a list of materials.

Will I have access to all the lessons at once?
Yes, once you register you'll have access to all the lessons so you can start learning, drawing and painting immediately.
How do I find the courses I am enrolled in?
Go to the top of the page and look for the "My Courses" tab. All the courses you have registered for are right there.



Check your inbox to confirm your subscription
Have a look at my other online courses!