Rugged Rocks & Sea:
Sketching Colourful Coastal Scenes
A Shari Blaukopf online sketching and painting course

When I first began painting in watercolour, I was lucky to attend workshops in Kennebunkport, Maine, with two generous and inspiring teachers. It was all a revelation. For this was my first experience painting outdoors; my first immersive retreat with other painters; and my first time painting by the sea. These early and powerful experiences gave me a life-long love of plein air painting. It's why, to this day, painting rocks and waves has so many magical associations for me.
What will you learn in this course?
In this course, I hope to share with you my love of painting coastal scenes, and give you a process for the next time you're by a rocky shore, sketchbook in hand. Because if you have a process to rely on, then this takes the fear out of capturing moving water and rocks of varying shapes and colours.

As we proceed in this course, I'll take you through all the key steps, so you're comfortable and confident painting seascapes:
We'll take a deep dive into materials — everything from painting surfaces to paints to brushes.
We'll practice colour mixing and blending by creating a full palette of swatches for sketching rocks.
Once you have a feel for just how much colour you need on your brush, we'll paint a series of small seaside scenes inspired by my recent travels to the Mediterranean — each scene a little different and a little more complex.
And, as we paint, we'll work on composition, values and edge control in watercolour.
I'll give you the same reference images as I'm using, so you'll be able to paint right along, or watch and paint later, at your own pace.
Once we're done, I know you'll feel confident to sit by the sea, listen to the lapping waves and capture the movement and drama unfolding right in front of you.


If you love to sketch coastal landscapes and want a step-by-step technique for painting rocks and waves, this course is for you. I'll show you how to:
Simplify shapes and improve your composition of coastal scenes
Blend colours to produce rocks that are varied, textured and luminous
Capture the flow and transparency of moving water
Use white space effectively to create a focus in your sketch
  This course includes:
THREE full-length video demonstrations plus one practice exercise you can watch at your own pace, as many times as you like
Closeup views of my brush and paper so you can see the relationship between brush wetness and the dampness of the paper
Downloadable reference images, so you can paint along
A detailed list of materials
A comments section where you can ask questions and post your finished sketches
A challenge image so you can continue practicing what you've learned in the course
Check out what you'll learn!
Three key topics we'll cover in this course: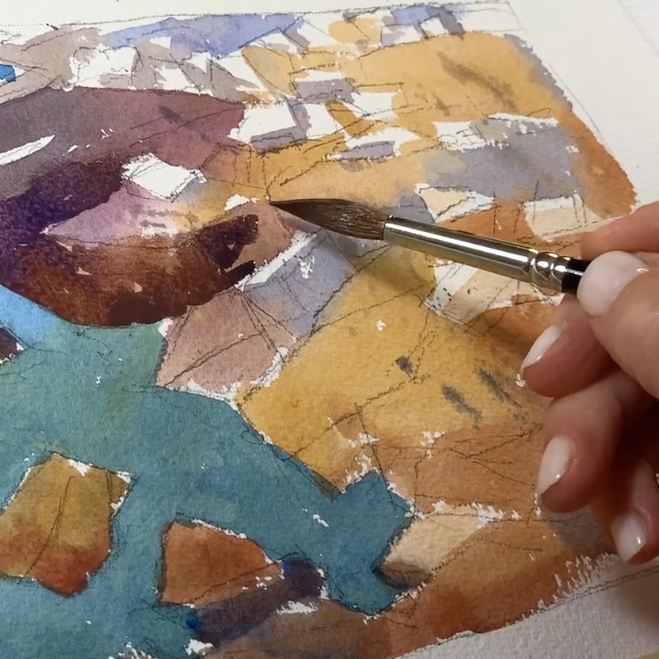 Achieving saturated colour

Rocks aren't always grey! I'll share my techniques for incorporating lots of colour into that all-important first wash. And then creating variety by adding darks and calligraphic marks.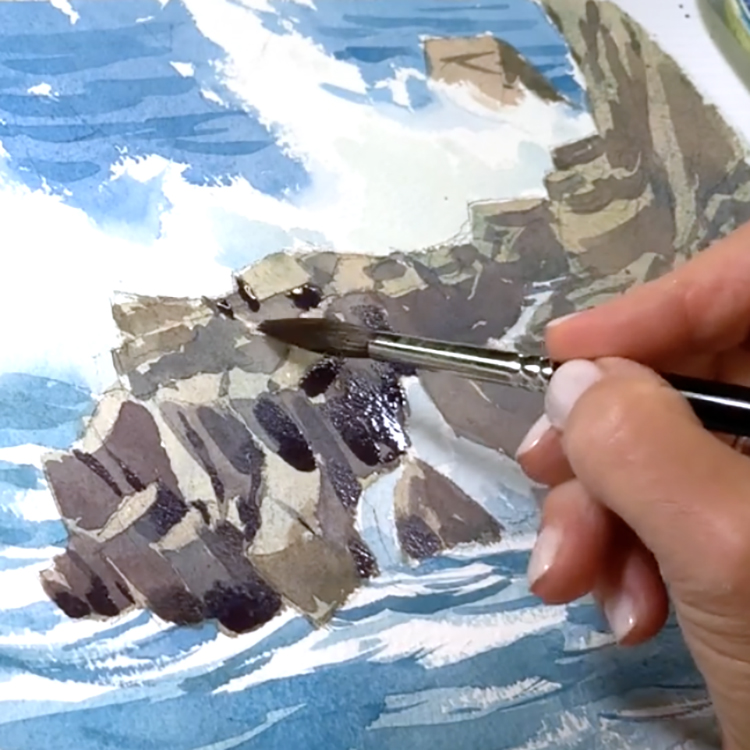 Using the white of the paper

With watercolour, a good plan must always include the whites of the paper you'll be saving. We'll start by identifying those areas, and then use different types of edges to convey spray and foam and waves.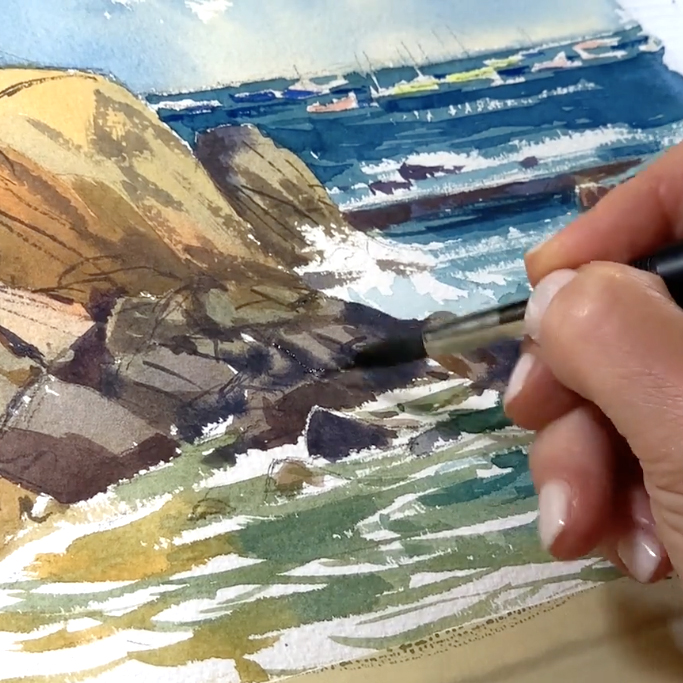 Creating a focus in your sketch

A strong understanding of values is essential to creating an "area of interest." You'll learn how to achieve this using a harmonious range of warm and cool tones, as well as light and dark values.


FAQ
How long is this course?
It's over 3 hours in duration, and includes three full-length demos and one practice exercise plus a challenge image so you can strengthen your skills.

How long will I have access to this course?
Once you sign up, the course is yours to watch as often as you like.

Who is this course for?
This is an intermediate level course. You should have some basic experience with drawing and watercolour.

What tools will I need?
We'll cover drawing and painting tools in some detail at the start of the course, and you can download a list of materials.

Will I have access to all the lessons at once?
Yes, once you register you'll have access to all the lessons so you can start learning, drawing and painting immediately.
How do I find the courses I am enrolled in?
Go to the top of the page and look for the "My Courses" tab. All the courses you have registered for are right there.


Check your inbox to confirm your subscription
Have a look at my other online courses!