Winter Woods & Stream
Creating Atmosphere on a Cloudy Day
A Shari Blaukopf online watercolour demonstration
When you live in a northern climate, as I do, painting snow scenes is inevitable. You could choose to paint only on sunny days, when the snow is fresh and the shadows at their sharpest — and that's always rewarding. But of course it's not always sunny, and so by limiting yourself you'd miss out on so many more days of sketching nature in all its variety and moods.
In this one-hour demo, I'll show you that while overcast winter days may seem uninspiring at first, they offer opportunities to create mood and atmosphere through subtle shifts in colour and tonality.
So please join me on a typically overcast day, as I paint a landscape of winter woods near my home, capturing the reflections in a nearby stream and the soft shadows of a northern sky. I'll show you how to plan the composition; how to select a limited palette for winter trees and an icy stream; and how to work from large areas to small details.
You can watch this demo as often as you like and, once you understand my process, I encourage you to paint right along with me!





Some of what we'll cover in this demo: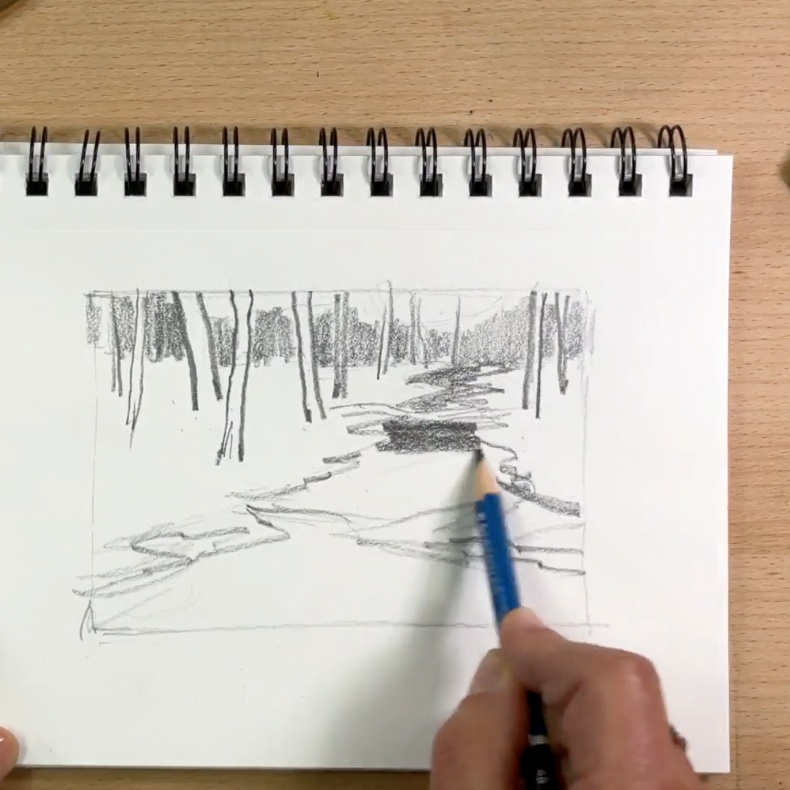 Thoughtful planning of the composition and values

Using the right tools and materials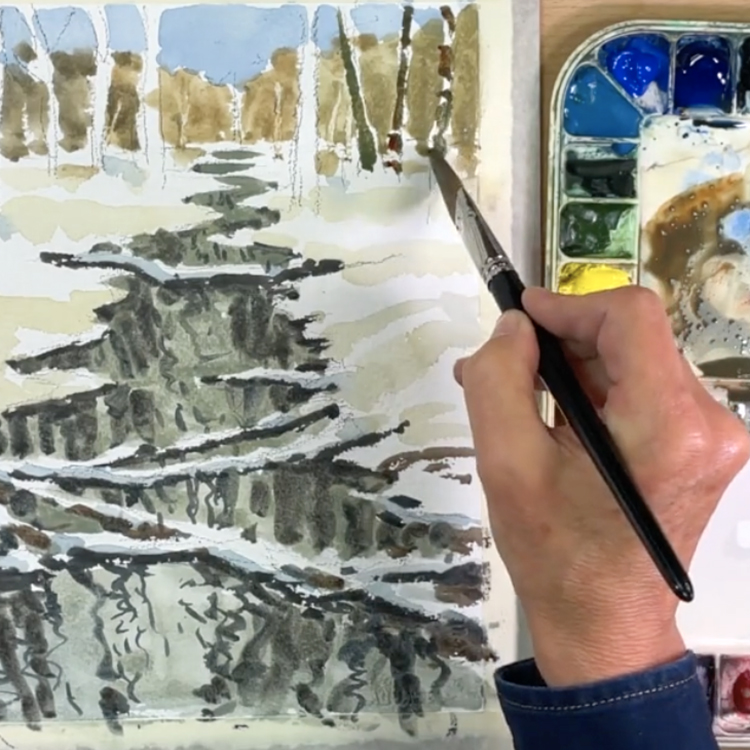 A step-by-step approach to painting the scene

If you love to sketch winter scenes, this demo is for you. I'll show you how to:
Simplify shapes and strengthen your composition of a winter scene
Use a limited palette to create atmosphere and colour harmony
Paint the big shapes first and save the details for last
  This demo includes:
A full-length video demonstration that you can watch at your own pace, as many times as you like
Closeup views of my brush, palette and paper so you can see the relationship between brush wetness and the dampness of the paper
Downloadable reference image, so you can paint along
A detailed list of materials
A comments section where you can ask questions and post your finished winter scene

Available in days

days after you enroll

Winter Woods and Stream Demo
FAQ
How long is this demo?
It's over one hour in duration, and includes a full winter scene painted in sections.

How long will I have access to this demo?
Once you sign up, the demo is yours to watch as often as you like.

Who is this demo for?
You should have some basic experience drawing, sketching or painting.

What tools will I need?
There is a full downloadable materials list that accompanies this demo.

Will I have access to the demo immediately?
Yes, once you register you'll have access to the full video so you can start learning, drawing and painting immediately.

How do I find the courses I am enrolled in?
Go to the top of the page and look for the "My Courses" tab. All the courses you have registered for are right there.


Check your inbox to confirm your subscription
Have a look at my other courses!