Behind the Palms:
Sketching Historic Dean Park in Ink & Watercolour
A Shari Blaukopf online sketching and painting course
I fell in love with Dean Park at first sketch.  
Dean Park is a historic neighbourhood in Fort Myers, a small city in southwest Florida, and I was so captivated by its warm light and tropical hues, that I immediately took out my sketchbook and began sketching the tall palms from a shaded bench.
I soon saw that the plants and towering palms were vital to the sense of place in every sketch I made. And not just for the many layers of reflected colour — the warm reds, yellows and greens, as well as the cool trunks of the palms. But also for how the luxurious sub-tropical plants and palms act as framing devices, essential to each composition.
To see what I mean, and to perhaps understand why I fell in love with this neighbourhood, I invite you to join me as I take a sketching tour of historic Dean Park. 
What will I learn in this course?
In Behind the Palms, I'll show you the steps I use when I sketch on location, starting with good planning and expressive ink lines. Then we'll pull out our watercolours and I'll demonstrate how I use a subtle underpainting to create a warm glow in tropical scenes. We'll look at the distinctive shapes of two types of palms trees, and I'll share some of my favourite mixes for vegetation in sunlight.
And, since Dean Park is famous for its many architectural styles, we'll sketch two of my favourite houses, practicing how light and shadow fall across and affect different parts of buildings.
I'll give you the same reference images as I'm sketching from, so you'll be able to draw and paint along. I'll also share my favourite colour mixes for palm trunks, reflections in windows and tropical skies.
If you love sketching in ink and watercolour and want a step-by-step process for sketching palms and tropical scenes, this course is for you. You'll learn about:
DRAWING: How to set up the main structures in pencil before adding expressive ink lines
COLOUR: I'll share the warm and distinctive colour palette I developed for this sub-tropical setting
COMPOSITION: You'll learn how to combine the organic forms of palms and other vegetation with the solid horizontals and verticals of a built environment
CONTRAST: You'll understand how the use of a harmonious range of warm and cool tones, as well as light and dark values, adds variety to your scenes
LIGHT AND SHADOW: You'll practice getting the right colours on your brush to produce luminous shadows and reflected light
  This course includes:
THREE practice exercises and TWO full-length video demonstrations that you can watch at your own pace, as many times as you like
Downloadable reference images, so you paint along with me
A detailed list of materials
A comments section where you can ask questions and post your finished sketches
TWO challenge images, so you can continue practicing what you've learned
Check out what you'll learn!
Three important topics we'll cover in this course: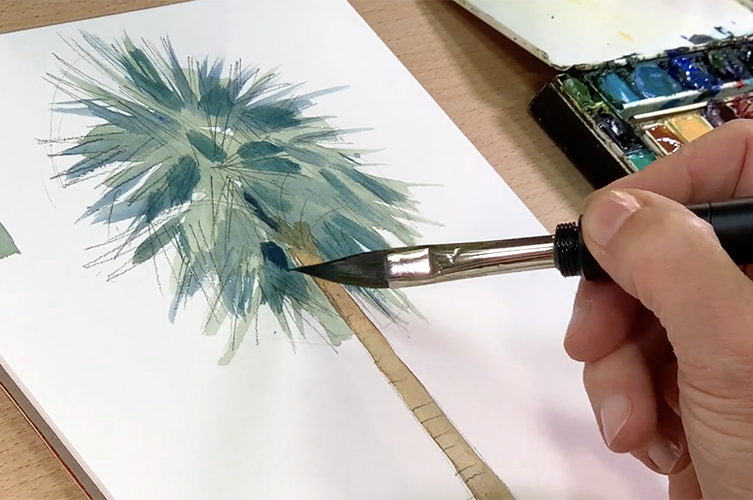 Using the Right Brushes
My sketch kit includes a variety of brush shapes. I'll share my favourites for painting the spiky ends of palm fronds.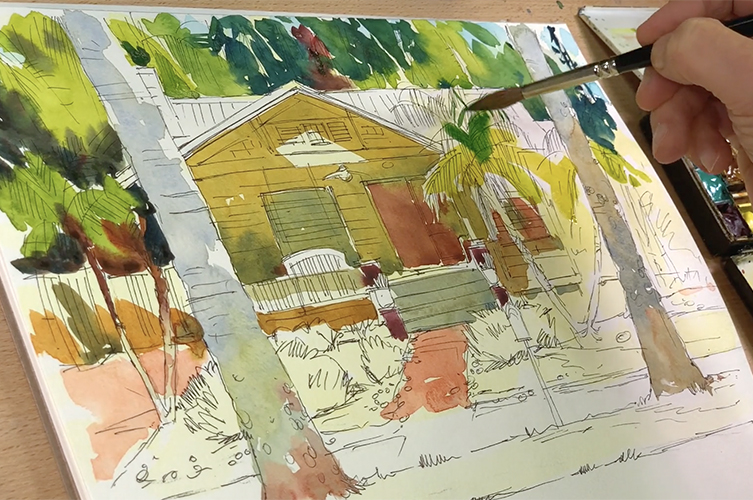 Selecting the Best Colours
I'll show you the best colours to convey the warm hues of Dean Park's lush front yards — everything from rich reds to bright yellows to deep greens.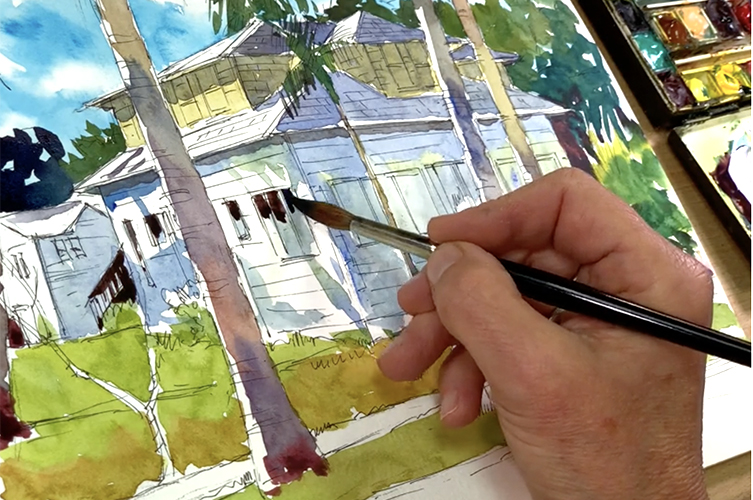 Painting Shadows & Reflections
We'll explore how the atmosphere of a tropical climate is reflected in everything from shadows on a wall to reflections in windows and doors.
FAQ
How long is this course?
It's over 3 hours in duration, and includes two full-length demos and three practice exercises plus 2 challenge images so you can strengthen your skills.
How long will I have access to this course?
Once you sign up, the course is yours to watch as often as you like.
Who is this course for?
This is a beginner to intermediate course. You should have some basic experience with drawing and watercolour.
What tools will I need?
We'll cover drawing and painting tools in some detail at the start of the course, and you can download a list of materials.
Will I have access to all the lessons at once?
Yes, once you register you'll have access to all the lessons so you can start learning, drawing and painting immediately.
How do I find the courses I am enrolled in?
Go to the top of the page and look for the "My Courses" tab. All the courses you have registered for are right there.
Check your inbox to confirm your subscription
Have a look at my other courses!