Victorian Vignettes:
Historic Facades in Light & Colour
A Shari Blaukopf online sketching and painting course
Carré Saint-Louis is one of Montreal's great public spaces. A tree-lined square built in 1876, our beloved carré is popular with Montrealers and tourists, who gather to sit under the spreading trees, enjoy the sparkling gush of water from the stately cast iron fountain and photograph the Victorian-style houses around the square. It's charming in all seasons, but my favourite time to sketch there is in summer. The park is filled with trees and benches, so I can sit in the shade and look across at the row of houses which are endlessly fascinating to draw because of all the painted trim and carved details. That's what Victorian Vignettes: Historic Facades in Light & Colour is all about.
What is a vignette?
My favourite technique for sketching these houses is to select an interesting detail and treat it as a vignette. Instead of creating a full scene in my sketchbook, I focus on the ornamentation that makes the building special, and leave the edges of the sketch loose and open. That's what makes them vignettes.
What will I learn in this course?
I'll show you the steps I use when I sketch architectural details on location, starting with the all-important pencil drawing. Then we'll get out our watercolours to add in the larger areas of slate, stone, sky and painted trim. We'll contrast areas of light and shadow to add depth to our sketches and, to finish up, we'll create visual excitement with calligraphic details and spots of pure colour.
I'll give you the same reference images as I'm using, so you'll be able to draw and paint along. I'll also share my favourite colour mixes for stone, slate, and vegetation, both in light and in shadow.
If you love sketching in watercolour and want a step-by-step process for creating architectural vignettes, this course is for you. In this class, you'll learn how to:
Simplify the main shapes in your drawing first and add details later
Create focus and excitement with watercolour through contrast and colour
Use the right brushes for both large washes and detailed ornamentation

Glaze with luminous layers of wash on window reflections

Mix the right colours for architectural surfaces in both light and in shadow
  This course includes:
THREE full-length video demonstrations that you can watch at your own pace, as many times as you like
Downloadable reference images so you can practice what you've learned!
A detailed list of materials
A comments section where you can ask questions and post your finished sketches
Check out what you'll learn!
Three important steps we'll cover in this course: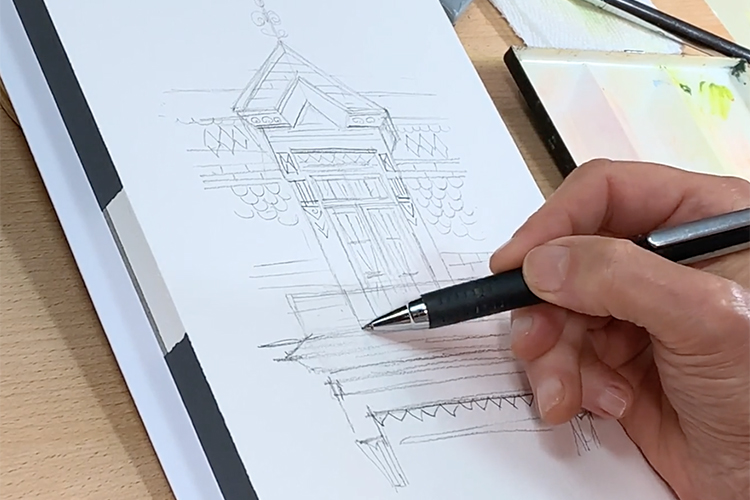 Foundation:
Start with a strong drawing
A confident drawing is key to creating a compelling architectural sketch. I'll show you how I frame the main shapes on the page, leaving details for later.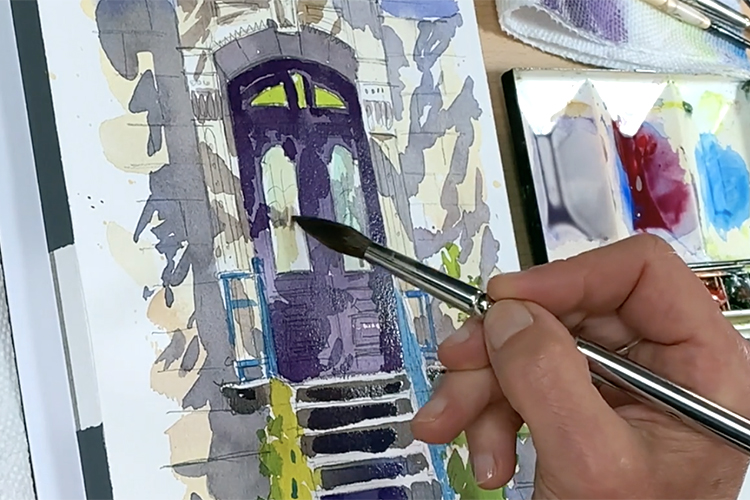 Structure:
Fill with saturated colour
Get your watercolour washes just right, and your final results will be fresh and bright. I'll demonstrate the correct ratio of pigment and water for surfaces in sun and in shadow.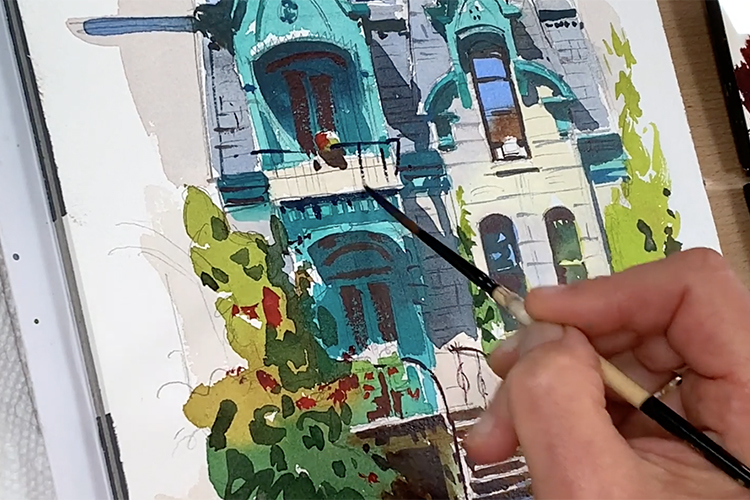 Ornamentation:
Enhance with lively details
The smaller dark shapes add depth and excitement to the final stages of any sketch. I'll show you my favourite brushes for calligraphic marks and sparkling highlights.
FAQ
How long is this course?
It's over 3 hours in duration, and includes a practice exercise and three full-length demos.
How long will I have access to this course?
Once you sign up, the course is yours to watch as often as you like.
Who is this course for?
You should have some basic experience drawing, sketching or painting.
What tools will I need?
We'll cover drawing and painting tools in some detail at the start of the course, and you can download a list of materials.
Will I have access to all the lessons at once?
Yes, once you register you'll have access to all the lessons so you can start learning, drawing and painting immediately.
How do I find the courses I am enrolled in?
Go to the top of the page and look for the "My Courses" tab. All the courses you have registered for are right there.


Check your inbox to confirm your subscription
Have a look at my other courses!