Sketching Skies in Gouache:
An Intro to Tools & Techniques
A Shari Blaukopf online sketching and painting course
Are you new to sketching in gouache? Or maybe have some experience working with this versatile medium but want to know more? Sketching Skies in Gouache is the perfect place to start. 
And skies and clouds are the perfect subject, since they lack hard edges and strict forms. That way, you can experiment with the medium in a painterly way, and get a feel for how the paint behaves on your palette, brush and paper.
What is gouache?
If you're used to working in watercolour, you might be wondering what makes gouache different. It's water-soluble and the pigment particles are suspended in gum arabic, as in watercolour. But those particles are larger and closer together, so they block the light, giving gouache its characteristic opacity. When gouache dries, it has a beautiful matte finish, which explains why it's a favourite medium for poster painting. 
The other thing about gouache — it dries quickly, making it ideal for location sketching. I especially love gouache it for its versatility. I can paint from light to dark or dark to light, and I can work both transparently and opaquely.
What will I learn in this course?
In this introductory course we'll go through all the key steps to get you comfortable and confident working with gouache. We'll take a deep dive into materials — everything from surfaces to paints to brushes. From there, we'll practice colour mixing and blending by creating a full palette of swatches that are just right for sketching skies. And once we get a feel for the rich, creamy beauty of gouache on our brushes, we'll paint a series of small sky sketches, each one a little different and a little more complex.
I'll give you the same reference images as I'm using, so you'll be able to paint right along, or watch and paint later, at your own pace. I'll show you how I mix the subtle colours of sunrise and sunset. Then I'll share my favourite mixes for a range of soft greys, blues and mauves that are ideal for clouds. When you're done, you'll feel confident going out in your neighbourhood to capture the fleeting drama of the sky any time of day. 
If you're new to gouache or simply want to strengthen your colour mixing techniques, this course is for you. In this class you'll learn about:
The best tools and materials for working in gouache 
Setting up a simple gouache palette and keeping the paint fresh
Colour mixing techniques and paint consistency
How to balance water and pigment for both transparent and opaque washes 
This course includes:
Exercises to practice your colour mixing
SIX full-length video demos that you can watch at your own pace, as many times as you like
A BONUS on-location demo
Downloadable reference images
A full list of materials
A comments section where you can ask questions and post your finished sketches
Check out what you'll learn!
Some of what we'll cover in the course: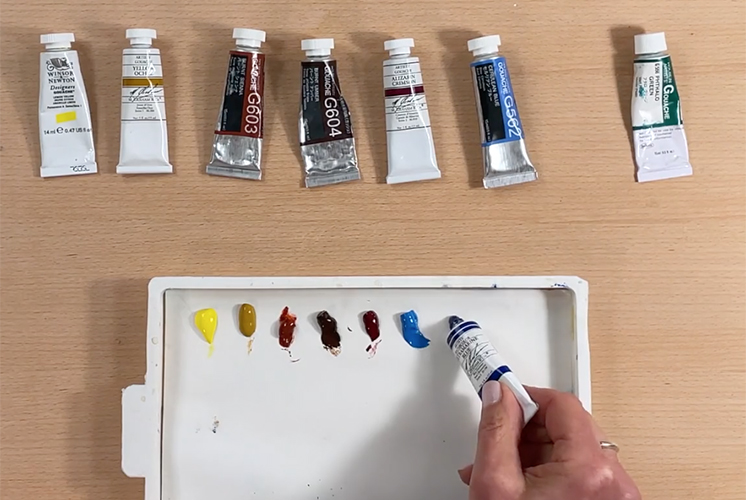 The best tools & materials for gouache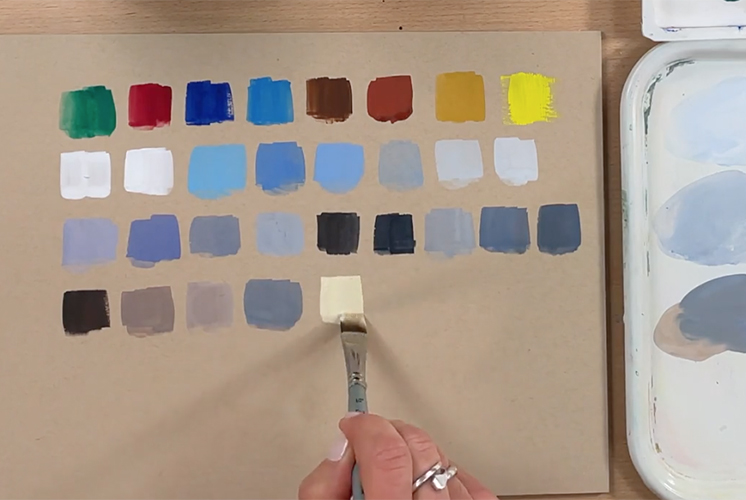 Colour mixing and paint consistency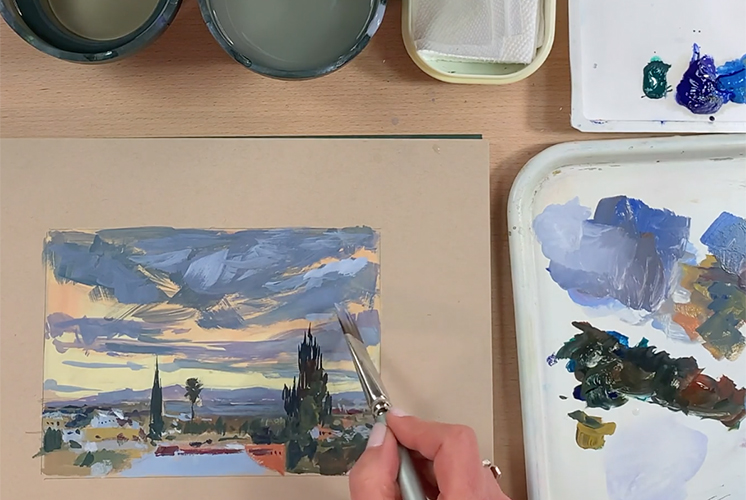 Six full-length sky demos so you can paint along and sharpen your skills!
FAQ
How long is this course?
It's over 3 hours in duration, and includes practice exercises and six full-length demos plus a bonus on-location demo.
How long will I have access to this course?
Once you sign up, the course is yours to watch as often as you like.
Who is this course for?
You should have some basic experience drawing, sketching or painting.
What tools will I need?
We'll cover drawing and painting tools in some detail at the start of the course, and you can download a list of materials.
Will I have access to all the lessons at once?
Yes, once you register you'll have access to all the lessons so you can start learning, drawing and painting immediately.
How do I find the courses I am enrolled in?
Go to the top of the page and look for the "My Courses" tab. All the courses you have registered for are right there.


Check your inbox to confirm your subscription
Have a look at my other online courses!