Urban Winter:
A Snowy Street Scene in Watercolour
A Shari Blaukopf online sketching and painting course
Let me show you my favourite spot in the city of Pointe Claire. A scene buzzing with urban life. With dog walkers and students waiting for the bus. With cars, storefronts and signs below, and poles and wires jostling overhead. And, best of all, with a yellow wall that positively glows in the morning sun. Over the years, it's a view I've drawn and painted again and again.
Why? Because when the sun emerges after a fresh snowfall, that warm wall is the perfect counterpoint to the cool snow shadows in the rest of the scene. Add to that an inviting curve in the road, the vertical rhythm of utility poles, and the pattern of snow-covered roofs, and you have an irresistible combination of compositional elements. No wonder I keep going back.
Learn to paint a city in snow
In Urban Winter: A Snowy Scene in Watercolour, we'll cover all the steps I use when I'm sketching an urban winter scene on location. We'll start by looking at what makes this a great composition. We'll warm up by painting some colour swatches and a fire hydrant in snow. Then we'll paint the full urban scene in winter, starting from the big shapes of sky and houses, and ending with a big, bold wet-in-wet shiny road.
I'll give you the same reference images as I'm using, so you'll be able to draw and paint right along. Plus, I'll share my favourite colour mixes for both fresh AND slushy snow. When you're done, you'll feel confident going out on a sunny winter day to sketch your own urban scene. 
If you love to paint in watercolour and want a step-by-step process for improving your urban winter scenes, this course is for you. You'll learn how to:
·      Analyze the composition and take your time planning and drawing in pencil
·      Choose a harmonious colour palette that's perfect for a sunny winter day
·      Paint the big shapes first and save the details for last
·      Identify problem areas and practice them first on a separate sheet
·      Use a wet-in-wet treatment for reflections and snow on a winter road
  This course includes:
TWO practice exercises and a full-length video demonstration that you can watch at your own pace, as many times as you like
Downloadable reference images, so you paint along with me
A detailed list of materials
A comments section where you can ask questions and post your finished sketches
A challenge image, so you can continue practicing what you've learned
Check out what you'll learn!
Three ways you'll become
a better urban winter painter: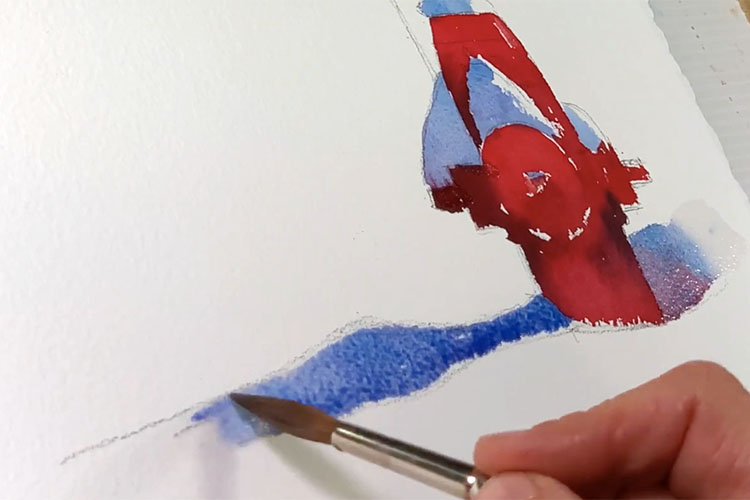 We'll start with the right
tools and materials
And, we'll begin this course with a short exercise to get comfortable with colour intensity and brush wetness.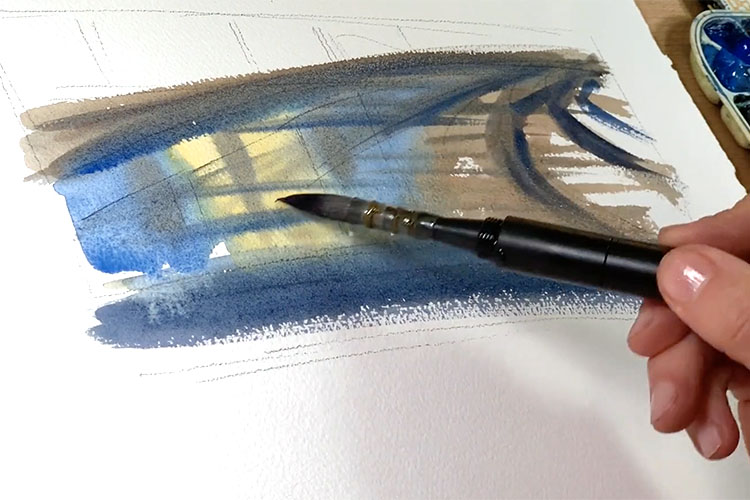 We'll practice techniques for
wet-in-wet washes
Wet-in-wet watercolour can be challenging, but I'll show you how to gain confidence by practicing on a separate sheet first.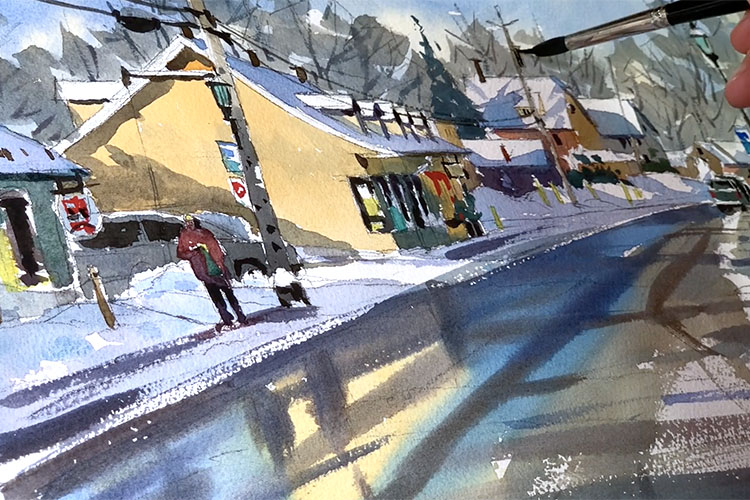 We'll finish with the details that bring an urban scene to life
I'll show you my favourite step in this winter scene — when I add calligraphic details such as wires, lights and signs.
FAQ
How long is this course?
It's over 2.5 hours in duration, and includes one full-length demo and two practice exercises plus a challenge image so you can strengthen your skills.
How long will I have access to this course?
Once you sign up, the course is yours to watch as often as you like.
Who is this course for?
This is an intermediate level course. You should have some basic experience with drawing and watercolour.
What tools will I need?
We'll cover drawing and painting tools in some detail at the start of the course, and you can download a list of materials.
Will I have access to all the lessons at once?
Yes, once you register you'll have access to all the lessons so you can start learning, drawing and painting immediately.
How do I find the courses I am enrolled in?
Go to the top of the page and look for the "My Courses" tab. All the courses you have registered for are right there.
Check your inbox to confirm your subscription
Have a look at my other courses!