Keeping it Fresh:
Sketching Markets in Ink & Watercolour
A Shari Blaukopf online sketching and painting course
I LOVE sketching at markets and, during my many years of roaming the world as an urban sketcher, I've been lucky to visit and sketch some of the most iconic markets of all. I've sketched a vendor slicing jamon Iberico at La Boqueria in Barcelona. Drawn Sataw beans and Pandan leaves at the vegetable market in Bangkok. Captured a fishmonger hawking exotic seafoods at Seattle's Pike Place Market. And, before devouring every last bite, I even sketched a tlayuda at Mercado Benito Juárez in Oaxaca, Mexico. But nothing makes me happier than sketching at Marché Jean Talon, right here in my home town of Montreal.
This historic public market is located in the heart of Little Italy, but there's much more than plum tomatoes and Genovese basil on display. The many stalls and small shops reflect the multi-cultural fabric of the city. I love to buy a croissant and a cappuccino, find a spot at a picnic table at the entrance to the market, and happily sketch the overflowing bushels of apples, braids of garlic and displays of pumpkins at harvest time.
In this course, I want to share with you my joy in sketching the colour and vibrant life of public markets. And, I hope, give you the confidence to sketch in a market close to home or far away.
What will I learn in this beginner-friendly course?
In this course, I'll show you the steps I use when I sketch on location at markets, starting with good planning and expressive ink lines. Then we'll get out our watercolours to add the brightest and freshest colours to fruit, vegetables, flowers and other subjects. To create depth and sharpen focus, we'll contrast areas of bright produce with darker interior spaces. We'll add typical market signs and lettering to give context to your scenes and structure to the sketchbook page.
And, since every market is positively humming with shoppers and vendors, I'll share my quick techniques for adding figures to the scene.
Along the way, we'll fill several pages of our sketchbook, using the tools and materials I take on location.
I'll give you the same reference images as I'm sketching from, so you'll be able to draw and paint along. I'll also share my favourite colour mixes for subjects such as bushels, bouquets, galvanized buckets and more.
If you love sketching in ink and watercolour and want a step-by-step process for sketching market scenes, this course is for you. You'll learn how to:
Combine expressive ink lines with colourful watercolour washes
Simplify a busy scene with large shapes and repeating patterns
Contrast brights and neutrals for maximum visual punch
Integrate people into your sketches using simplified lines
Add lettering and signage, which contribute local character to any urban scene
  This course includes:
FIVE full-length video demonstrations that you can watch at your own pace, as many times as you like
Downloadable reference images, so paint along with me
A detailed list of materials
A comments section where you can ask questions and post your finished sketches
A challenge image, so you can practice what you've learned
Check out what you'll learn!
Three key techniques we'll cover in this course: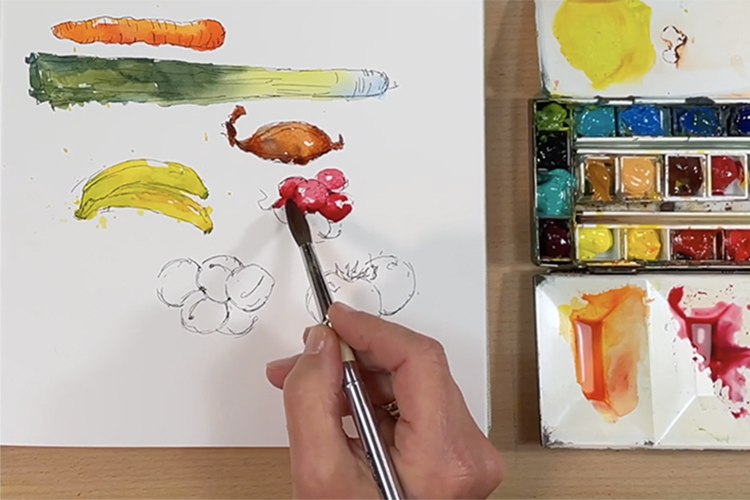 Combining ink & watercolour
A solid ink drawing is essential for a great market sketch. Followed by a vibrant wash in watercolour, to make your sketch come alive. I'll share my tools and techniques for doing both!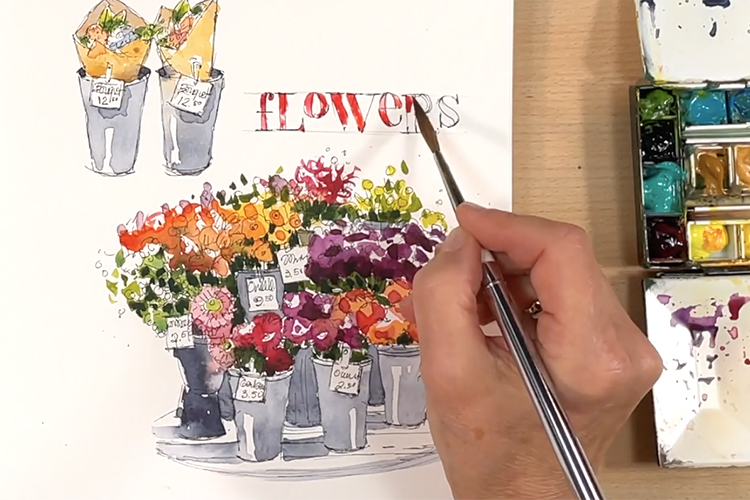 Hand-lettering & signage
Sketching lettering and signage is a key skill in creating market scenes with authentic visual flavour. I'll share some of my techniques, from years working as a graphic designer.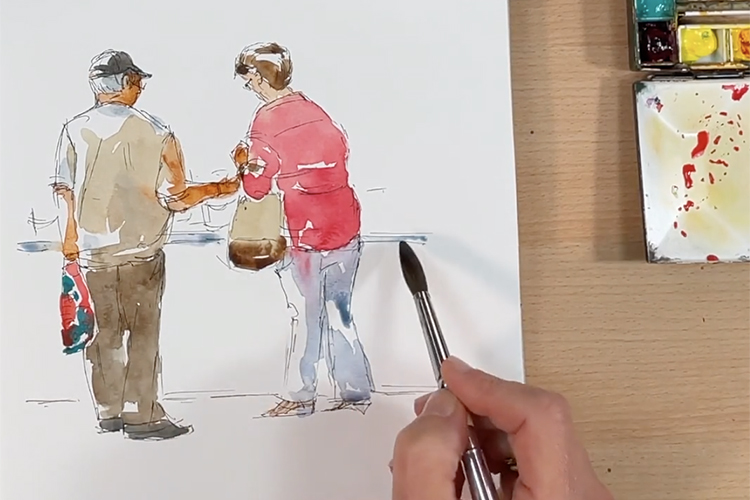 Adding people to your sketches
No market scene is complete without a few vendors or shoppers! I show you how I add the human presence, using a few expressive ink lines and confident watercolour washes.
FAQ
How long is this course?
It's over 3 hours in duration, and includes five full-length demos.
How long will I have access to this course?
Once you sign up, the course is yours to watch as often as you like.
Who is this course for?
This is a beginner-friendly course. You should have some basic experience with drawing and watercolour.
What tools will I need?
We'll cover drawing and painting tools in some detail at the start of the course, and you can download a list of materials.
Will I have access to all the lessons at once?
Yes, once you register you'll have access to all the lessons so you can start learning, drawing and painting immediately.
How do I find the courses I am enrolled in?
Go to the top of the page and look for the "My Courses" tab. All the courses you have registered for are right there.
Check your inbox to confirm your subscription
Have a look at my other courses!