Wet-in-Wet Blooms:
An Intro to my Favourite Watercolour Technique
A Shari Blaukopf online sketching and painting course
I've painted thousands of watercolours over the years — large and small, on loose sheets and in sketchbooks, on location and in studio. And, most important, on both wet paper and dry. But the technique I love most is the one that best expresses the fluid, flowing nature of this medium: wet-in-wet watercolour.
Why is wet-in-wet my favourite watercolour technique?
When you're painting on dry paper, you're limited by the short time it takes for the pigment to dry.
Not so with my technique for painting wet-in-wet. I learned this approach from the late Edgar A. Whitney, one of the masters of watercolour, when I was young. And I've pretty much stuck with his guidance ever since.
This method of painting on damp paper allows you to:
Obtain perfectly sharp edges

Create edges of different colours that meld into each other, for beautiful effects

And, return to already-painted areas to soften edges, add colour, or lift colour



Let's start small to get the feel
You can see why I love wet-in-wet. It's a flexible technique that gives you nearly total control over the surface of your paper — provided you practice. It does take a bit of practice to get a feel for how much water you need on your brush, and how to apply paint on a damp surface.
That's why we're starting with an introductory course of two small still lifes, painted live, from objects collected from my garden and studio. We won't have the distraction of complicated drawing and perspective, so we can focus entirely on getting comfortable with the technique.
And, once you've got the feel for wet-in-wet, you can apply it to any subject — from landscape and floral to cityscape and portraiture. In fact, I encourage you to try it out on your favourite subjects.
In this course, it's best to paint right through each sketch, start to finish. While the paper does retain its dampness for a long time — typically well over an hour — it will eventually dry. And when it does, you will lose the special properties that make wet-in-wet so magical.



If you love to paint in watercolour and want an introduction to my wet-in-wet technique, or want to strengthen your painting skills, this course is for you. I'll show you how to:
Wet the paper so it stays damp for a long time
Get comfortable with brush wetness on damp paper
Achieve transitions of value and colour across large areas
Create hard edges and edges that blend adjacent colours
  This course includes:
TWO full-length video demonstrations plus one practice exercise that you can watch at your own pace, as many times as you like
Closeup views of my brush and paper so you can see the relationship between brush wetness and the dampness of the paper
Downloadable reference images, so you paint along with me
A detailed list of materials
A comments section where you can ask questions and post your finished sketches

Check out what you'll learn!

Build your watercolour skills in this course: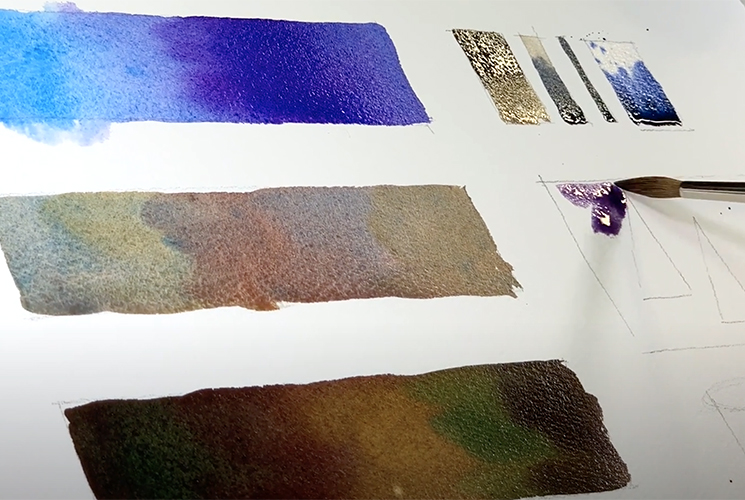 Practice first, paint later

I want you to really feel what it's like to work on wet paper and to have the right amount of juicy pigment on your brush. We'll warm up by wetting the paper and getting the feel for a wet brush on damp paper.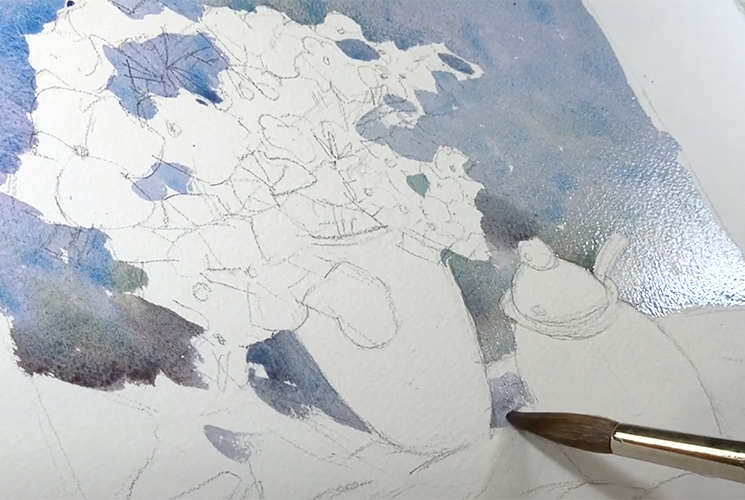 Create stunning gradations

I'll share my favourite recipes for achieving glorious granulating washes, show you how to create both hard and soft edges, and how the visual punch of white space will enliven your compositions.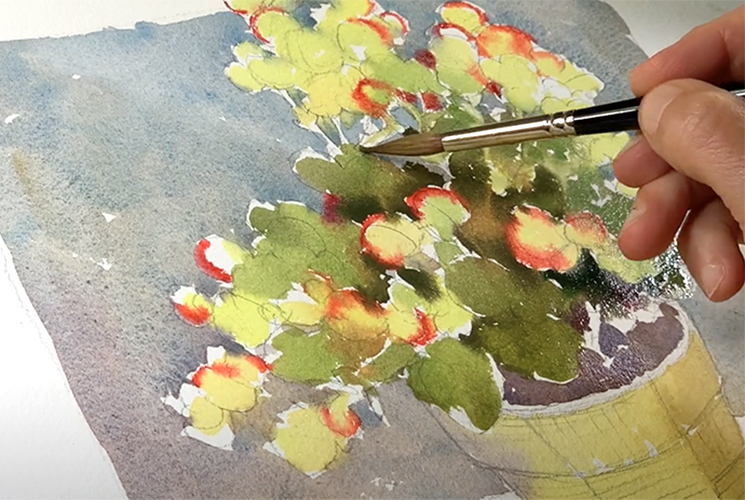 Apply rich colour and lively darks

We'll look at my favourite colour mixes for both bright and pale flowers, shadows on cloth, greens for foliage, and neutrals for backgrounds.



FAQ
How long is this course?
It's almost 3 hours in duration, and includes two full-length demos and one practice exercises plus a challenge image so you can strengthen your skills.
How long will I have access to this course?
Once you sign up, the course is yours to watch as often as you like.


Who is this course for?
This is an intermediate level course. You should have some basic experience with drawing and watercolour.
What tools will I need?
We'll cover drawing and painting tools in some detail at the start of the course, and you can download a list of materials.


Will I have access to all the lessons at once?
Yes, once you register you'll have access to all the lessons so you can start learning, drawing and painting immediately.
How do I find the courses I am enrolled in?
Go to the top of the page and look for the "My Courses" tab. All the courses you have registered for are right there.



Check your inbox to confirm your subscription
Have a look at my other courses!