Sketching Desert Scenes

Capturing the Near and the Far


A Shari Blaukopf online sketching &
watercolour painting course
The Sonoran Desert is famous for its immense saguaro cacti, which grow nowhere else on earth. When I first glimpsed these noble giants, which dot the entire landscape, I was appropriately awed.
But then I looked at the landscape a little bit longer, and discovered so much more to inspire a sketcher. Within a few days, I had filled my sketchbook with distant views of pale-coloured hills. With closeups of prickly pear and mesquite. With horses and cowpokes in nearby corrals. And, of course, with saguaros in every shape and size imaginable. When I returned home, I couldn't get this unearthly landscape out of my head. So I continued to explore its subtle colours and endless textures in my studio. Which is why I'm now so excited to share with you Sketching Desert Scenes: Capturing the Near and the Far.

Why did I create this course?
Desert scenes can be challenging — at least they were for me when I first tried to paint them. All I saw was a tangle of pale colours and textures, which took time to actually see. But with good planning, with a strong focus in my composition, through expressive colour, I was able to make sense of the shapes. In that instant, the desert scene came to life.
That's the process, and journey of discovery, I hope to share with you in this course.

What will you learn in this course?
The near. Imagine setting up your easel on a sunny, well-worn path in the Sonoran Desert. The first things you notice are the bright green pads of prickly pear, perhaps the spiky ribs of the saguaro cactus. So that's where we'll begin. I'll show you how I draw and then add colour to three close-up vignettes of desert vegetation, just as I did when I was on location.
The far. Now, as we stand at our easel a bit longer, the clouds roll in. In the distance, further up the path and under a turbulent sky, a dark ridge of cacti and other vegetation appears. This will be the larger desert scene we'll be painting. But first we have to make sense of it. So I'll show you how I break up the composition into simple shapes and distinct values. How I choose the best tools and materials to convey its textures. And how I simplify the process by starting with the larger shapes and working my way to smaller details.
Once you've mastered the watercolour techniques I'll show you in this course, I believe you'll have the confidence and skills to paint a variety of desert views, both near and far.

If you love to sketch and want step-by-step techniques for capturing a variety of desert scenes in watercolour, this course is for you. I'll show you how to:
Choose the best watercolour brushes for creating a variety of marks, edges and textures appropriate to each kind of desert plant
Simplify a complex landscape by breaking it down into smaller areas
Use a limited palette to create both subtle tones and vibrant contrasts
Use a wet-in-wet watercolour technique that allows you blend edges and gain greater control of your paint
This course includes:
Four video demonstrations you can watch at your own pace, as many times as you like
Closeup views of my brush and paper so you can see the relationship between the wetness of the brush and the dampness of the paper
Downloadable reference images, so you can paint along
A detailed list of materials
A comments section where you can ask questions and post your finished sketches

Check out what you'll learn!
Build your watercolour skills in this course: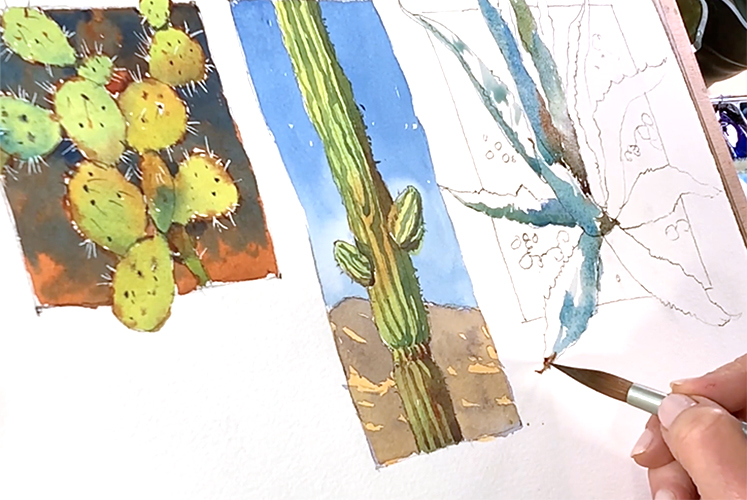 I'll share my favourite brush shapes for painting a wide variety of desert plants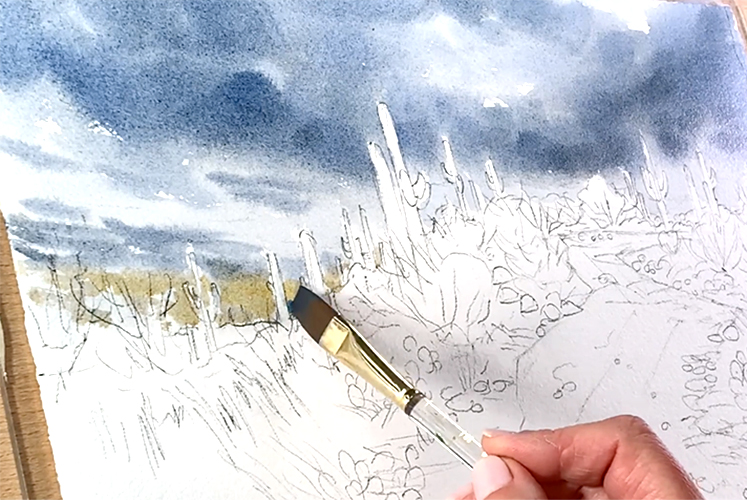 We'll use a wet-in-wet watercolour technique that's ideal for painting turbulent skies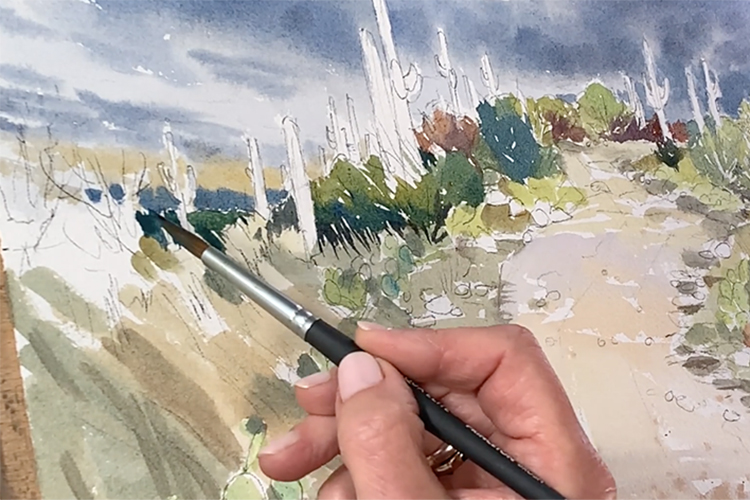 I'll show you how to use expressive darks that bring your desert scene to life

FAQ
How long is this course?
It's over 3 hours in duration, and includes FOUR demos so you can strengthen your watercolour skills.

How long will I have access to this course?
Once you sign up, the course is yours to watch as often as you like.

Who is this course for?
This is an intermediate level course. You should have some basic experience with drawing and watercolour.

What tools will I need?
We'll cover drawing and painting tools in some detail at the start of the course, and you can download a list of materials.

Will I have access to all the lessons at once?
Yes, once you register you'll have access to all the lessons so you can start learning, drawing and painting immediately.
How do I find the courses I am enrolled in?
Go to the top of the page and look for the "My Courses" tab. All the courses you have registered for are right there.


Check your inbox to confirm your subscription
Have a look at my other online courses!