Luminous Colour for Sketchers:
Mastering Pigment and Water on Paper
A Shari Blaukopf online sketching and painting course
Painting in watercolour requires boldness and patience. An understanding of the delicate balance between water, pigment and the wetness of your paper.
I've been working in watercolour for more decades than I care to count. And in that time, I've definitely had more failures than successes. But what always keeps me going is the deep sense of satisfaction when I try something new and get fresh, transparent — even glowing — results. That's what makes watercolour so exciting. That you can learn something new every time you pick up a brush. That you can't ever predict what will happen when paint and water mix on the paper.
As for failures, they never get me down. I use the backs of all of those watercolour disasters for more practice. I encourage you to do the same.
As an urban sketcher, watercolour is my medium of choice. It's light, portable and fast-drying. But there's so much to think about on location that it's also easy to overwork your sketch and wind up with muddy colour.
So think of this course as strength training in watercolour!
We'll do lots of practice exercises so you can get a feel for brush wetness, pigment saturation and the wetness of your paper.
We'll take it a step further by painting three scenes using limited palettes of colour. (Plus, I'll give you ideas for plenty more.)
And, by the end of our workout, you'll have gained confidence to paint boldly, using lots of fresh paint on a fully-loaded brush.
If you love sketching in watercolour and want a step-by-step process for achieving more luminous colour, this course is for you. You'll learn how to:
Mix bold, saturated colours and get the right amount of wash on your brush
Let vibrant pigments blend right on the paper
Achieve glowing results by pairing complementary colours

Use different triads of colour to change the mood of a sketch
  This course includes:
THREE full-length video demonstrations that illustrate key concepts
Downloadable reference images plus a handout with more ideas for triads, so you can practice what you've learned!
A detailed list of materials
A comments section for each lesson where you can ask questions and post your finished sketches
Check out what you'll learn!
Some of what we'll cover in the course: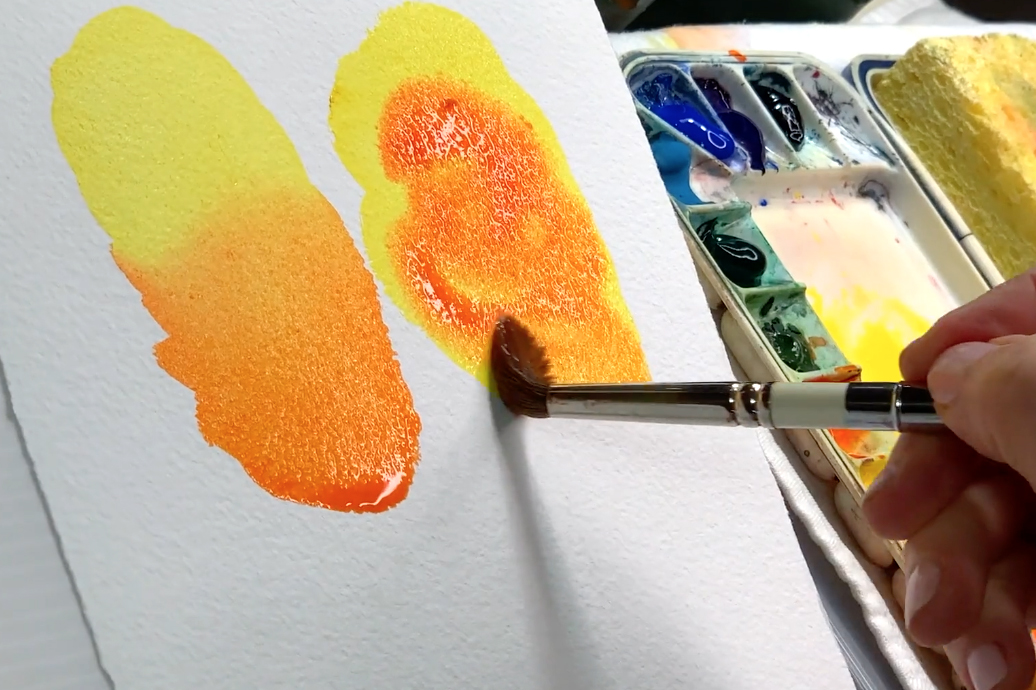 How to balance water
and pigment
We'll spend lots of time moving paint around on paper, so you can get a feel for what it's like to have just the right amount of colour on your brush. This course includes views of my palette, so you can see me mixing pigments and water. Plus closeups of my brush, as I lay down fresh, colourful washes.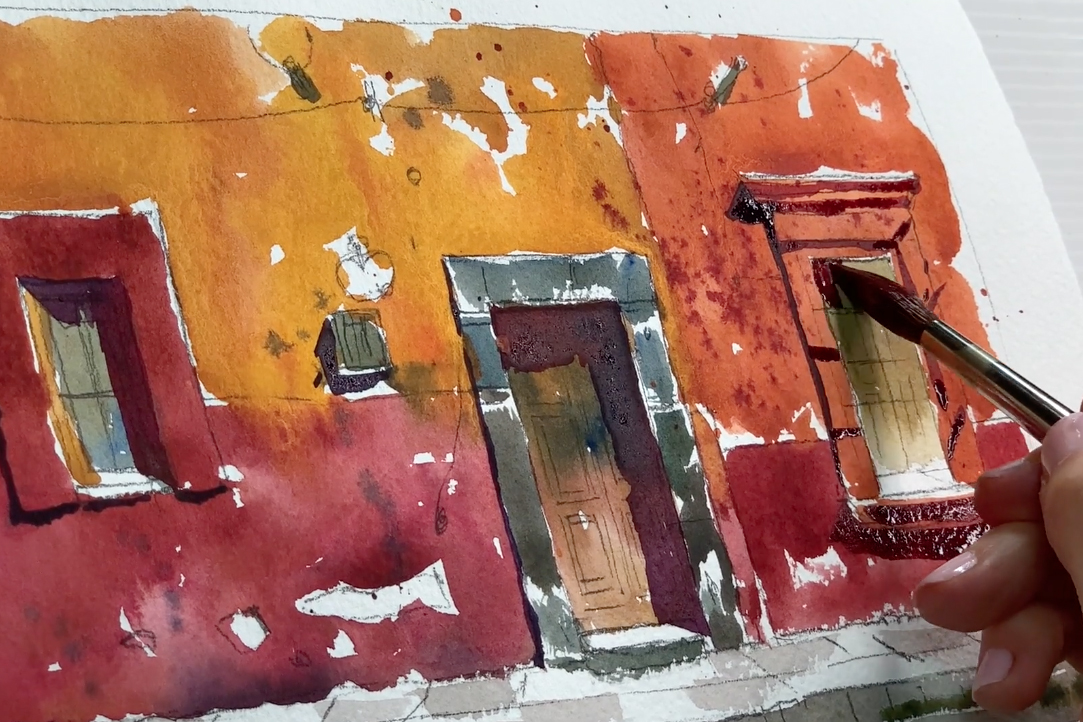 How to mix colours
right on the paper
Once we're warmed up by applying saturated colour, we'll put our brush skills to work by painting three full-length scenes. I'll show you how to create texture and vibrancy right from the start of your sketch.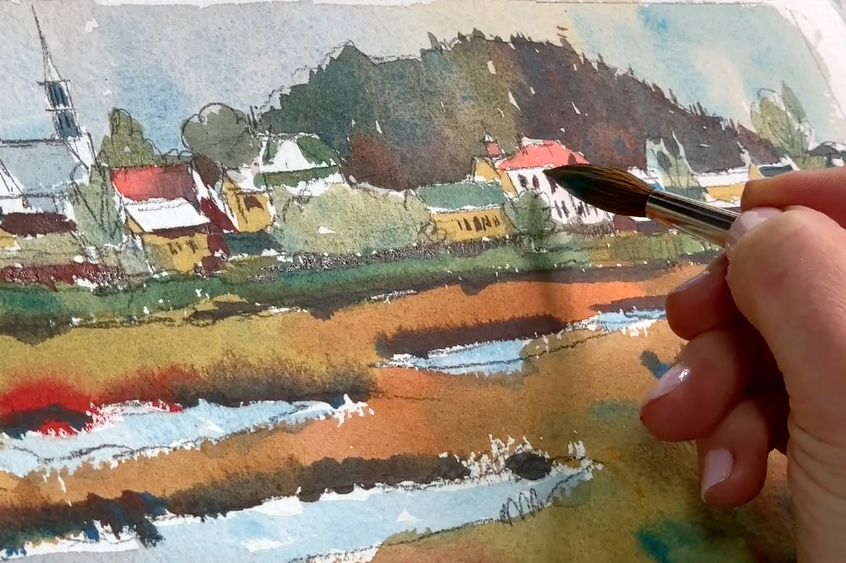 How to work with
limited palettes
We'll dive deep into using triads of colour! I'll show you two of my favourite triads and give you ideas for many more! Plus, you'll be able to share what you've created and ask questions in the comments section.
FAQ
How long is this course?
It's over 2.5 hours in duration, and includes practice exercises and three full-length demos.
How long will I have access to this course?
Once you sign up, the course is yours to watch as often as you like.
Who is this course for?
You should have some basic experience drawing, sketching or painting.
What tools will I need?
We'll cover drawing and painting tools in some detail at the start of the course, and you can download a list of materials. If you draw and paint in watercolour, you'll likely have all or most of what's needed among your art supplies.
Will I have access to all the lessons at once?
Yes, once you register you'll have access to all the lessons so you can start learning, drawing and painting immediately.
How do I find the courses I am enrolled in?
Go to the top of the page and look for the "My Courses" tab. All the courses you have registered for are right there.
Check your inbox to confirm your subscription
Have a look at my other online classes!