Sketching Boats:
Simple Solutions for a Complex Scene
A Shari Blaukopf online sketching and painting course
I love painting boats, but this course is not really about that. It's about simplifying a complex scene. So, while boats and their reflections are our ostensible subject, I'll be sharing my tips and techniques for making visual sense from any scene of complexity.
The scene I've chosen for this course is one I've painted often — sailboats docked at the yacht club in Pointe Claire Village, on the shores of Lac St. Louis, near where I live. I often paint this scene from a shady spot in an adjacent park, which has a good view of the boats, masts and reflections on the water. The first time I tried painting this scene, I didn't know where to begin — and the results reflected my struggles! But after returning to this favourite spot again and again, I figured out a process for simplifying both the drawing and the painting. It's a process you can apply to any complex scene, from a busy street, to a cityscape, to a crowded market.
Get on board!
In Sketching Boats: Simple Solutions for a Complex Scene, you'll join me as I analyze the scene, plan the composition using a value sketch, and then create a full pencil drawing. I'll introduce the triad of primary colours we'll be using, and show you how you can obtain a rich and varied palette with just those primaries. From there, we'll paint the scene in seven steps, going from the largest shapes to the smallest ones — and, not coincidentally, from my largest brush to my smallest rigger.
I'll give you the same references image as I'm using, so you'll be able to draw and paint right along. Or watch first and paint later. When you're done, you'll feel confident going out on location to sketch, armed with some effective techniques for tackling even the most complex scene. 
If you love to sketch in watercolour and want a step-by-step process for simplifying a complex scene, this course is for you. In this class you'll learn how to:
Use pattern and repetition to strengthen your composition

Plan lights and darks before you put brush to paper

Use a limited palette of pigments to enhance colour harmony in your sketch

Create visual focus with colour, contrast and value

Work from larger shapes (and brushes!) to smaller ones
  This course includes:
Full-length video demonstrations that illustrate key concepts
A downloadable reference image plus a bonus image, so you can practice what you've learned!
A detailed list of materials
A bonus handout that illustrates my most effective tips for simplifying a complex scene
A comments section for each lesson where you can ask questions and post your finished sketches
Check out what you'll learn!
Some of what we'll cover in this course: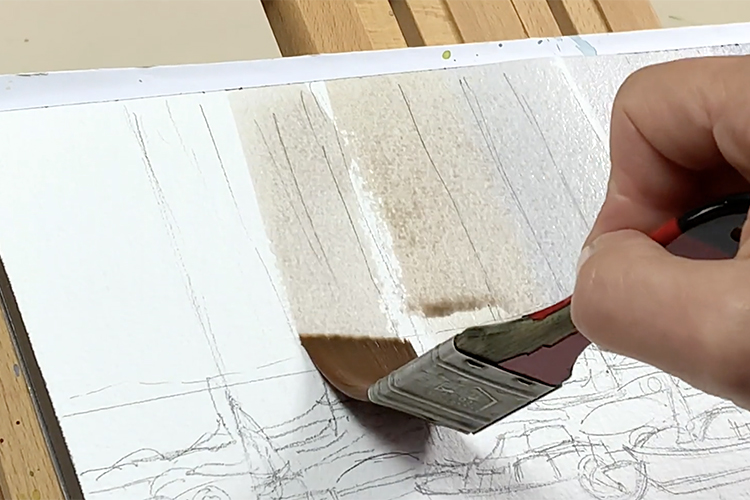 Starting with the big shapes
Good planning makes for better painting. By deciding early on where to place lights, darks and mid-tones, you'll paint with greater freshness and spontaneity.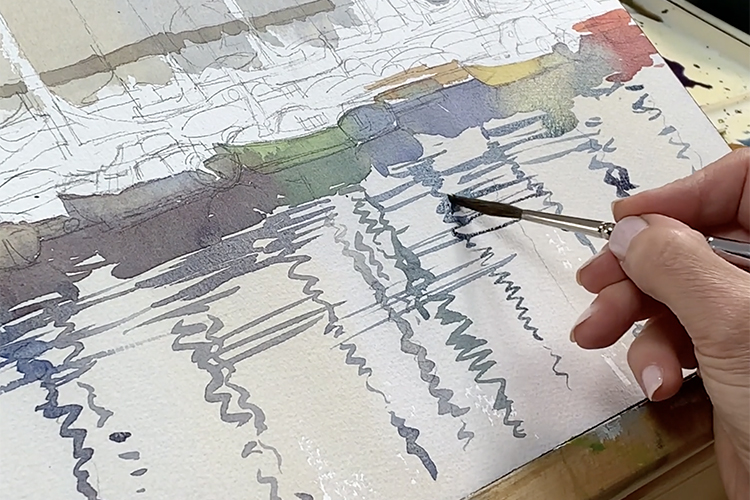 Using a limited colour palette
An effective way to simplify your decision-making process and create harmony in your sketch is by using a limited palette of colours. I'll show you my favourite triad of primary colours and how to use them!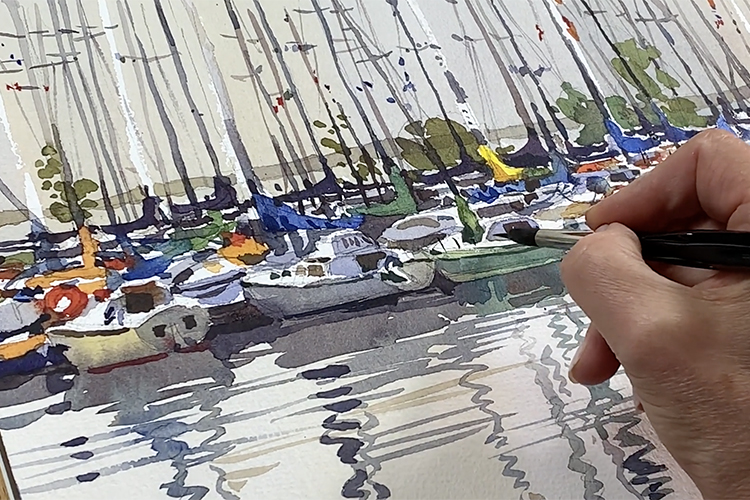 Leaving the details for last
With a complex scene like this one, it's tempting to get out a small brush and start painting the details first. But we'll start with the big shapes of sky and water, and leave ropes and rigging until the end.
FAQ
How long is this course?
It's a little over two hours in duration, and includes demos for a value sketch, a pencil drawing, painted swatches and a full scene painted in seven steps.
How long will I have access to this course?
Once you sign up, the course is yours to watch as often as you like.
Who is this course for?
You should have some basic experience drawing, sketching or painting.
What tools will I need?
We'll cover drawing and painting tools in some detail at the start of the course, and you can download a list of materials. If you draw and paint in watercolour, you'll likely have all or most of what need among your art supplies.
Will I have access to all the lessons at once?
Yes, once you register you'll have access to all the lessons so you can start learning, drawing and painting immediately.
How do I find the courses I am enrolled in?
Go to the top of the page and look for the "My Courses" tab. All the courses you have registered for are right there.
Check your inbox to confirm your subscription
Have a look at my other online classes!