Sketching Winter:
Capturing the Colours of Snow
A Shari Blaukopf online sketching and painting course
Come take a walk with me through a tiny patch of woods near my house. And while we're there, I'll share with you what I love best about painting winter landscapes.
I walk through this little wooded area every morning with my dog, Alice. It's beautiful here in all seasons, but especially gorgeous in winter, when the morning sun casts long shadows across the rocks and the fresh snow. I often stop to take a few quick photos (while Alice finds sticks to chew on!). Then, it's back to my studio to paint the scene while the colours of the winter landscape are still fresh in my mind.
The subtle colours of fresh-fallen snow and branched patterns of light are what I try to capture first — and that's where we'll begin in this course. I'll also show you how to plan the composition, select a limited palette and mix the freshest colours for painting winter trees, rocks and snow.
And even if you live in a place where, alas, winters are too warm for snow, I encourage you to paint along with me anyway. There's nothing like painting crisp winter whites and blues to help you gain greater mastery in handling brushes and pigments.
If you love to sketch in watercolour and want a step-by-step process for painting winter landscapes and shadows on snow, this course is for you. In this class you'll learn how to:
Plan lights and darks before you put brush to paper
C

ontrast colours and edges to add variety to what can often seem like a monochromatic scene

Mix my favourite triad of pigments for painting shadows on snow

Use design techniques to improve and simplify the composition
  This course includes:
Full-length video demonstrations that illustrate key concepts
A downloadable reference image plus three bonus images, so you can practice what you've learned!
A detailed list of materials
A bonus handout with tips for winter car sketching
A comments section for each lesson where you can ask questions and post your finished sketches
Check out what you'll learn!
Some of what we'll cover in this course: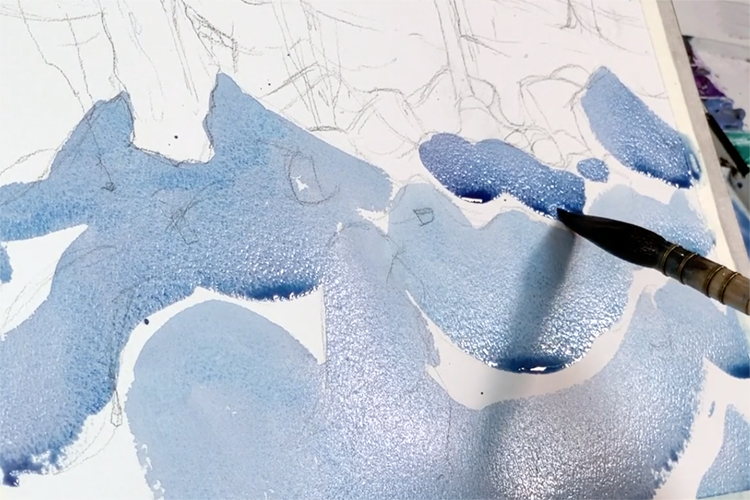 Use a variety of edges
to convey distance
By contrasting warm and cool colours, as well as painting on both wet and dry paper, we'll create a sense of distance in the wooded landscape. And I'll show the best brushes for juicy washes and textured drybrush.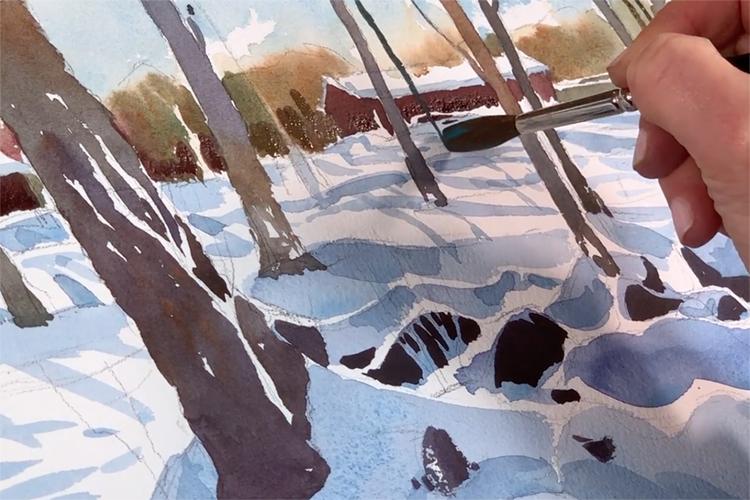 Capture the subtle colours of the winter landscape
An effective way to simplify your decision-making and create harmony in a winter scene is by using a limited palette of colours. I'll demonstrate my favourite watercolour mixes for snow, winter trees and morning sky.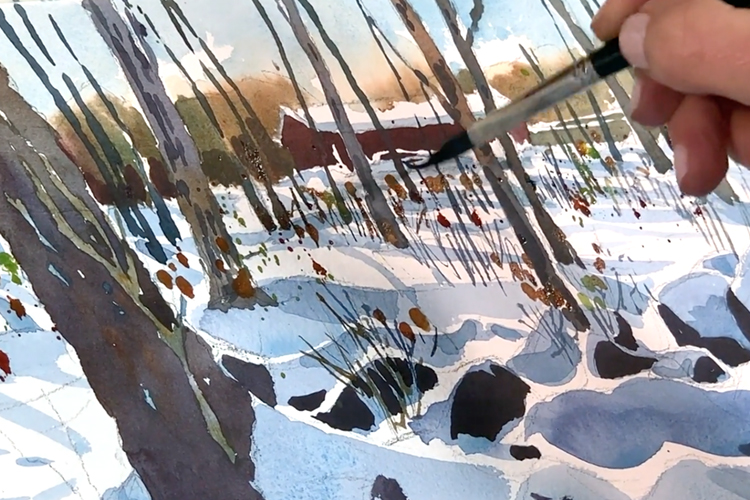 Simplify the composition with good planning
By deciding early on where to place lights, darks and mid-tones, you'll paint with greater freshness, confidence and spontaneity. And, by breaking up the scene into five steps, you'll be able to paint along with me!
FAQ
How long is this course?
It's approx. 1.5 hours in duration, and includes demos for a value sketch, a pencil drawing, painted swatches and a full scene painted in five steps.
How long will I have access to this course?
Once you sign up, the course is yours to watch as often as you like.
Who is this course for?
You should have some basic experience drawing, sketching or painting.
What tools will I need?
We'll cover drawing and painting tools in some detail at the start of the course, and you can download a list of materials. If you draw and paint in watercolour, you'll likely have all or most of what need among your art supplies.
Will I have access to all the lessons at once?
Yes, once you register you'll have access to all the lessons so you can start learning, drawing and painting immediately.
How do I find the courses I am enrolled in?
Go to the top of the page and look for the "My Courses" tab. All the courses you have registered for are right there.
Check your inbox to confirm your subscription
Have a look at my other online classes!