Sketching Fresh Flowers:
Late Summer Blooms
A Shari Blaukopf online sketching and painting course
Where I live, in Montreal, Canada, we have cold weather from October until April. So when the first spring crocuses poke through the snow, that's the highlight of my year. I spend much of the summer working in my garden and painting flowers. Sometimes I paint outdoors, but often my flower subject is whatever is blooming and has ended up in a vase or glass jar on my kitchen counter.
In the winter, when I need to see some colour, I often buy flowers to sketch from my local grocer. 
Nothing beats fresh flowers
For this course, even though I'm in studio, I will be painting fresh flowers in a vase right in front of me: Deep purple Salvia, delicate Echinacea and, finally, masses of pink-tinged Hydrangea. The best of my late summer garden.
In Sketching Fresh Flowers: Late Summer Blooms, we'll go through all the steps I use when I'm sketching a bouquet in my studio (or on my kitchen counter!).
We'll start by looking at the paint colours I use for flowers, and I'll show you how I create vibrant hues by letting pigments mix right on the paper.
From there we'll draw and paint a variety of late summer blooms, starting small and working toward a more complex bouquet.
In our final sketch, we'll tackle the challenges of painting light flowers against a darker background: how to use stems and leaves to connect blooms, and how to simplify the complex shapes inside a glass vase.
I'll give you reference images, so you'll be able to draw and paint right along.
I'll also share my favourite mixes for vibrant flower colours. And when you're done, you'll feel confident setting up your own bouquet and painting it with the freshest colours. 
If you love to sketch in watercolour and want to paint vibrant florals, this course is for you. In this class you'll learn:
How to unify your floral sketches by massing flowers to create larger shapes
How to paint light flowers against a dark background
The best colour mixes for vibrant blooms and foliage
How to simplify the complex shapes inside a glass vase
The most effective water-to-pigment ratio for painting flowers
This course includes:
Three full-length video demonstrations that illustrate key concepts
Downloadable reference images
A full list of materials
Check out what you'll learn!
Some of what we'll cover in this course: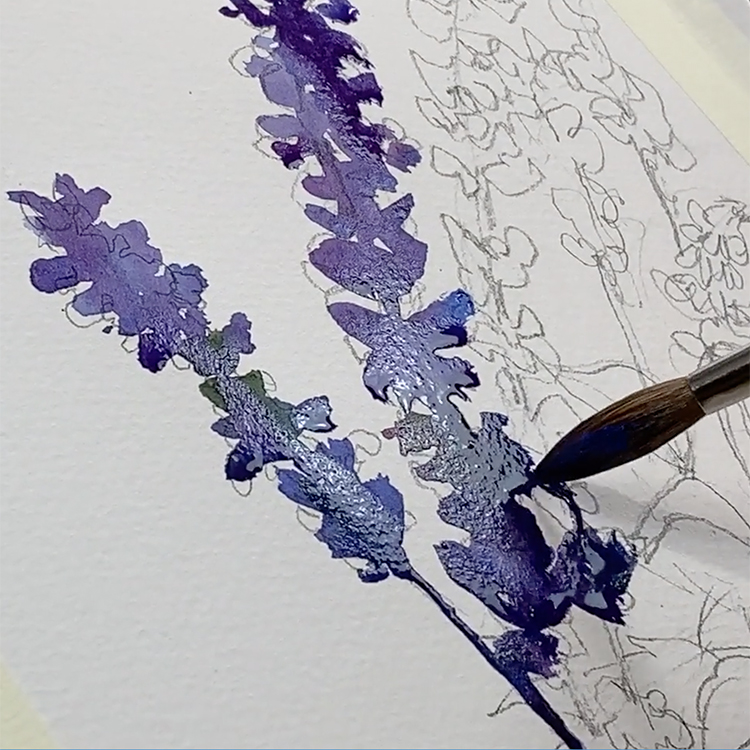 Mixing vibrant colour
right on the paper
You'll learn how to achieve richer and more complex colours by allowing paints to flow into each other and mix on the paper instead of the palette.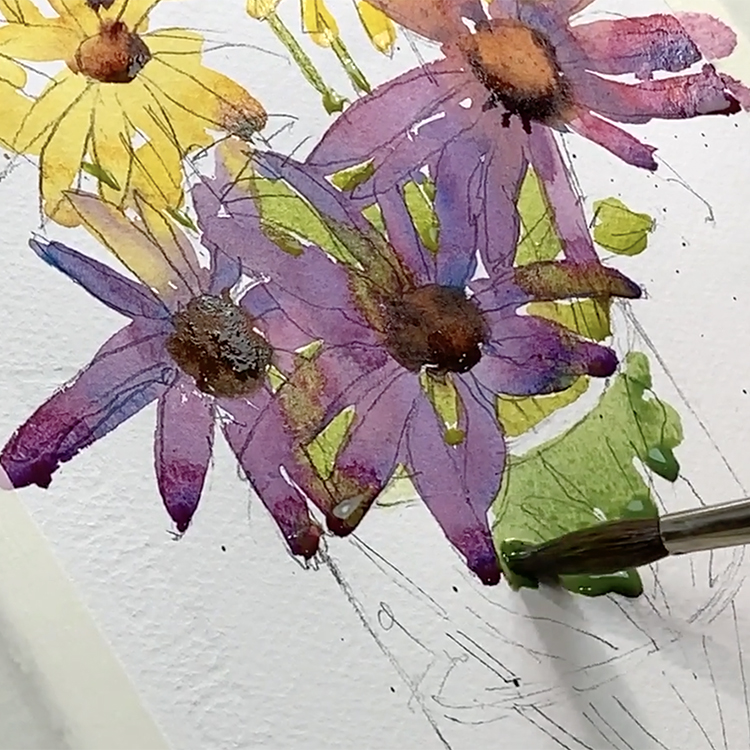 Massing flowers into
single-colour shapes
It's so much more effective when you paint flowers as masses of colour, rather than trying to render individual blooms. We'll work on keeping colours fresh and using negative painting to define darks.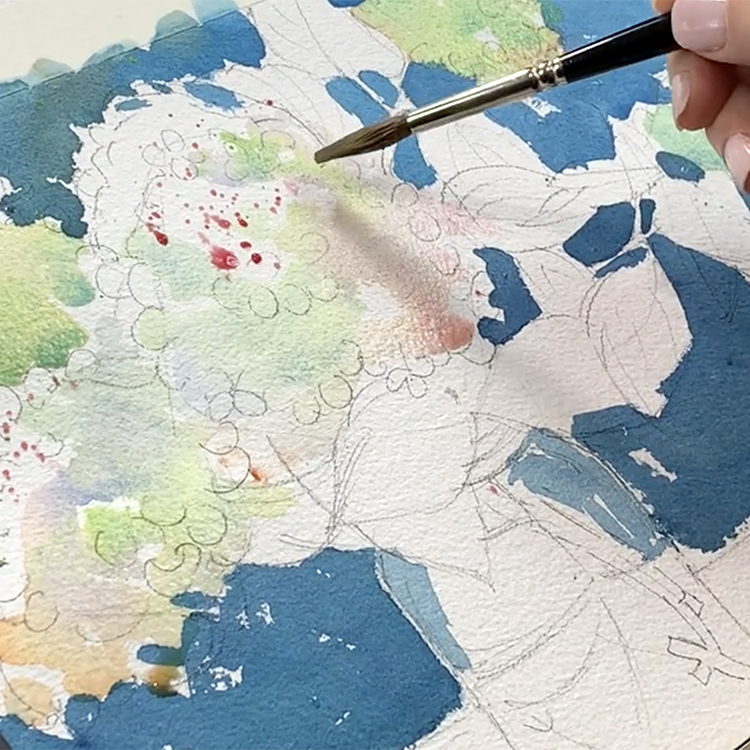 Planning the lights and darks for an effective composition
Where do you start? Do you paint the background or the foreground first? We'll integrate value sketches and compositional decisions into the process before we even touch a brush to paper.
FAQ
How long is this course?
It's a little over three hours in duration, broken up into 3 demos.
How long will I have access to this course?
Once you sign up, the course is yours to watch as often as you like.
Who is this course for?
You should have some basic experience drawing, sketching or painting.
What tools will I need?
We'll cover drawing and painting tools in some detail at the start of the course, and you can download a list of materials. If you draw and paint in watercolour, you'll likely have all or most of what need among your art supplies.
Will I have access to all the lessons at once?
Yes, once you register you'll have access to all the lessons so you can start learning, drawing and painting immediately.
How do I find the courses I am enrolled in?
Go to the top of the page and look for the "My Courses" tab. All the courses you have registered for are right there.
Check your inbox to confirm your subscription
Have a look at my other online classes!