Mexican Street Scene:
Sketching Urban Life and Texture
A Shari Blaukopf online sketching and painting course
I love travel sketching so much that my sketching bag is the first thing I pack and endlessly repack when getting ready for a trip. And while I may forget an extra pair of socks, I never forget my favourite brushes.
For me, there's nothing quite like standing in the middle of a busy square and recording its pageantry. Light and shadow on buildings. People strolling or going about their busy lives. Colourful shops and signs. And the constant ebb and flow that give each city its specific charm and texture. 
In Mexican Street Scene: Sketching Urban Life and Texture, I'll give you a guided tour of my thoughts and techniques when I'm standing in the middle of it all. How I sort through the sensory clutter to arrive at a focused, lively and satisfying sketch that says, I was there!
So come and stand beside me...
We'll start by analyzing my reference photo, so we can strengthen its composition through cropping. Then we'll warm up our "sketching muscles" with three brush exercises. Each is designed to help you feel more confident painting wet-in-wet skies, textured brick and fine calligraphic detail.  
Even though we'll be working from a reference photo, we'll be using exactly the same techniques I use on location. That way, your final sketch will look as fresh as if you were standing right beside me, on that busy Mexican street. 
I'll share my favourite mixes for painting skies, brick buildings and foliage. And show you how to include people in the scene. More importantly, I'll also show how to give them presence, so they belong in your sketch. 
When you're done, you'll feel greater confidence sketching your own lively streetscape, whether you're on location or working from one of your travel photos. So pack your bags and let's sketch together in Mexico!
If you love to sketch in watercolour and want a step-by-step process for painting a street scene bursting with life and colour, this course is for you. In this class you'll learn how to:
Capture the feeling and character of a place
Create pictorial focus through contrast and colour 
Add people to your scene and give them presence
Use fresh and bright watercolour techniques for architecture, skies, people and cars
  This course includes:
Full-length video demonstrations that illustrate key concepts
A downloadable reference image so you can practice what you've learned!
A detailed list of materials
A comments section for each lesson where you can ask questions and post your finished sketches
Check out what you'll learn!
Some of what we'll cover in this course: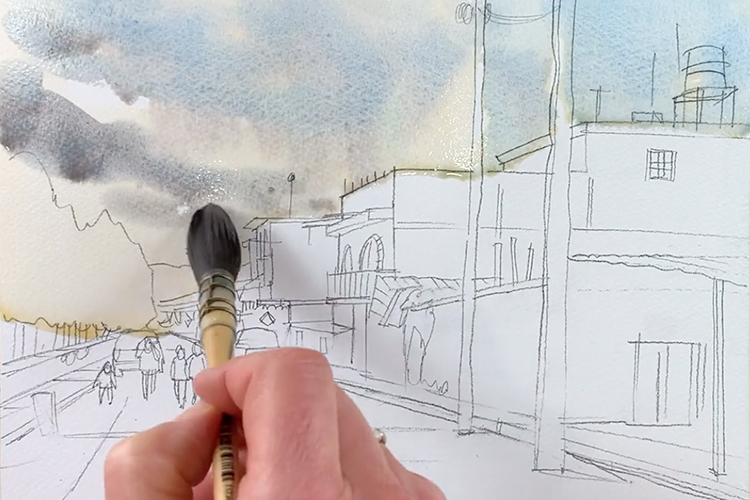 Using the right ratio of water and pigment for a wet-in-wet sky
You'll learn how to paint a sky that has both transparency and depth by controlling the wetness on your paper and on your brush.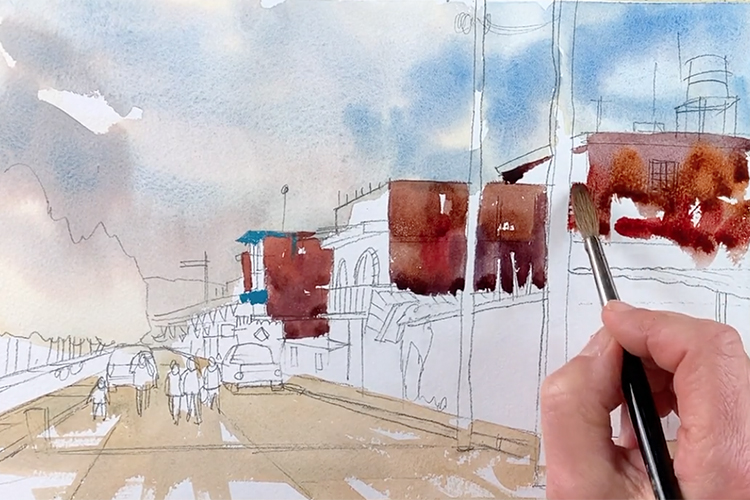 Mixing bright colours
right on the paper
It's so much more exciting when you let water and pigment mix right on your page.
Plus, when you abandon control and let watercolour do its thing, you'll find that urban texture just happens all on its own.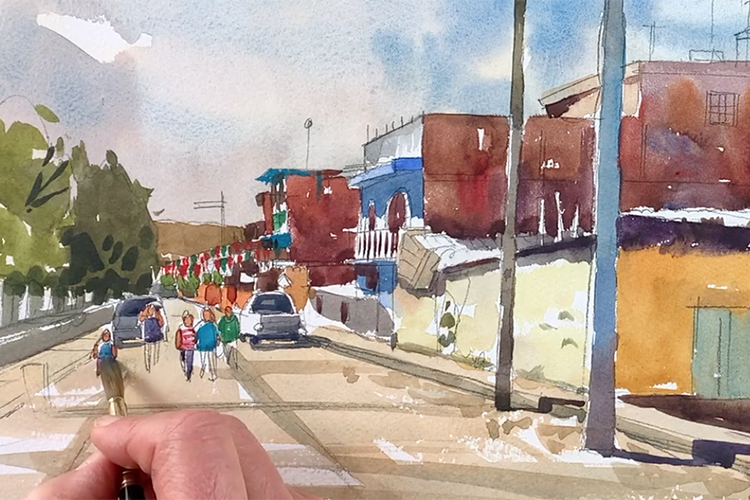 Adding light and shadow
to figures
People add so much life to a city scene. I'll show you my techniques for adding figures that look like they are walking right through your sketch.
FAQ
How long is this course?
It's over one hour in duration, and includes a brush practice and a full street scene painted in four steps.
How long will I have access to this course?
Once you sign up, the course is yours to watch as often as you like.
Who is this course for?
You should have some basic experience drawing, sketching or painting.
What tools will I need?
We'll cover drawing and painting tools in some detail at the start of the course, and you can download a list of materials. If you draw and paint in watercolour, you'll likely have all or most of what need among your art supplies.
Will I have access to all the lessons at once?
Yes, once you register you'll have access to all the lessons so you can start learning, drawing and painting immediately.
How do I find the courses I am enrolled in?
Go to the top of the page and look for the "My Courses" tab. All the courses you have registered for are right there.
Check your inbox to confirm your subscription
Have a look at my other online classes!