The Broken Mill
A location sketching class with Shari Blaukopf
I'm thrilled to share my love of on-location sketching with you. Please join me in Pointe-Claire Village, on the outskirts of Montreal, and you'll understand why. You'll hear red-winged blackbirds, see bugs crawl across my sketchbook and have a front row seat for a full on-location demo in pencil, ink and watercolour.
Oh, and you'll also get to visit a 300-year old French windmill — the subject of "The Broken Mill." With its historical and natural riches, Windmill Point is one of my favourite sketching spots. That's because anything that old has a story to tell. So let's begin there.
The bandaged giant
Built in 1709 on a spit of land jutting into Lac St. Louis, the mill has a characteristically French cylindrical shape, with stone walls some four feet thick. It faithfully ground grain until 1866, and is today one of only 18 such mills in Quebec. The one in Pointe-Claire is possibly the oldest.
So it was a historic tragedy when a recent windstorm sheared away two of the mill's arms.
Plans are underway to restore this gentle giant. But meanwhile, you'll see how its fragile bandage of green fencing and brown fabric remind us of a long and broken history.
Plein air helps you tell a living story
So there's the beauty of plein air sketching. You're outdoors, surrounded by constantly shifting shadows, breezes, sights and sounds. At any given moment, consciously or unconsciously, a hundred subtle impulses are coursing through you, inspiring and guiding your every decision. And so the story you sketch is not just about the mill. The story is also about you, experiencing the moment.
Let's sketch at the mill!
In my new online course, "The Broken Mill," we'll go through every step of how I sketch on location. I'll show you my compact plein air sketching kit. We'll move on to composition and planning, followed by a rough pencil sketch and more detailed ink drawing. From there, we'll paint the full scene, capturing the essence of the day with the freshest, liveliest colours.
I'll share a reference image, so you'll can draw and paint right along. Or watch first and paint later. And when we're done, you'll feel more confident venturing out on location to sketch your own lively scene — and telling your own story. 
If you love to sketch in watercolour and want to feel more confident on location, this course is for you. In this class you'll learn the importance of:
Plein Air Sketching Tools

: My own take on a compact, transportable sketching kit

Narrative

: Choosing a subject that tells a story

Good Planning

: Creating a values thumbnail to establish composition, along with lights and darks

Preliminary sketch

: Using rough pencil lines to block in shapes and composition

Ink and wash

: Combining ink and wash to create a lively under-structure

Shadows

: Using shadows to add volume to your subject

Darks

: Finishing with details that "finish" your sketch
Along the way, you'll also see how I deal with changing light, and how I mix colours on my palette for stone, sky and trees.
"The Broken Mill" includes:
Eight video demos

A downloadable reference image

A full list of materials for my plein air sketching setup
Check out what you'll learn!
Some of what we'll cover in the course: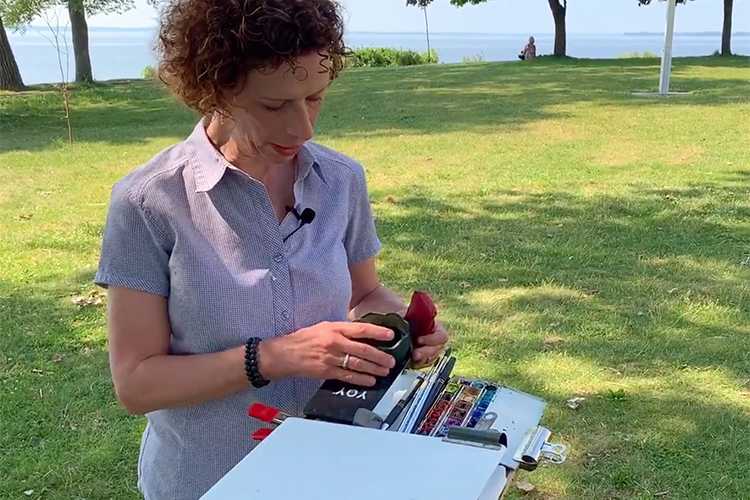 My plein air sketching supplies
Have a look at what I take with me when I sketch on location.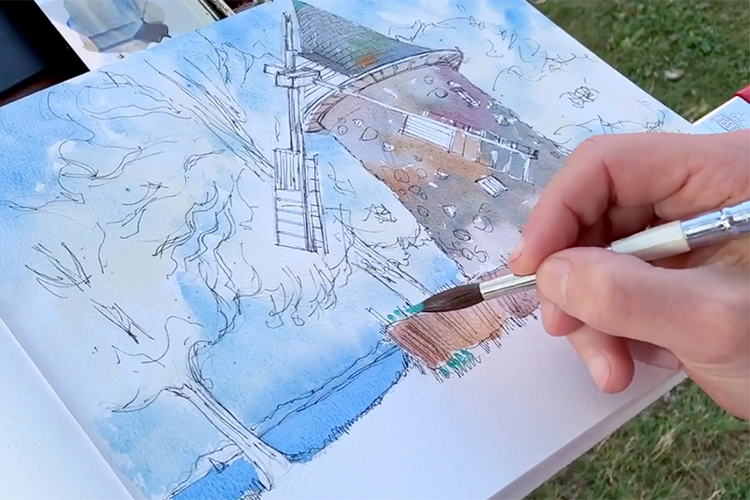 Telling the story of the location
What makes this place special and how can you express what you see and feel?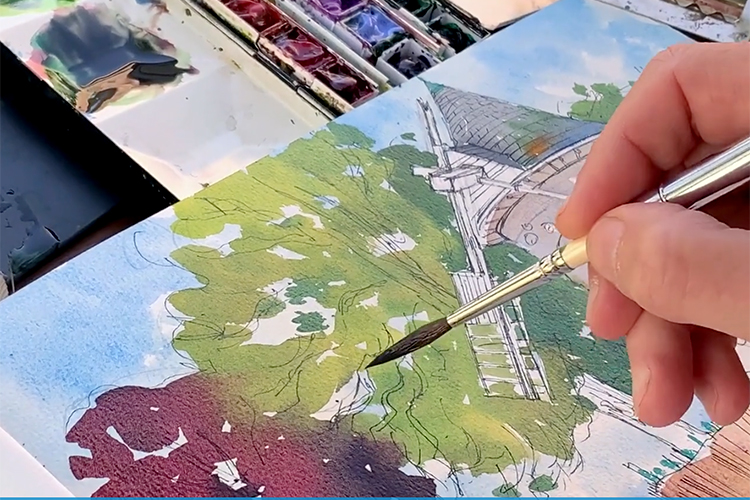 Painting with saturated colour
So much can be achieved by putting down the paint right the first time.
FAQ
How long is this course?
It's approximately 1.5 hours in duration, broken up into 8 lessons.
How long will I have access to this course?
Once you sign up, the course is yours to watch as often as you like.
Who is this course for?
You should have some basic experience drawing, sketching or painting.
What tools will I need?
We'll cover plein air drawing and painting tools in some detail at the start of the course, and you can download a list of materials. If you draw and paint in watercolour, you'll likely have all or most of what need among your art supplies.
Will I have access to all the lessons at once?
Yes, once you register you'll have access to all the lessons so you can start learning, drawing and painting immediately.
Check your inbox to confirm your subscription
Have a look at my other online classes!