Still, Rushing, Falling Water
A Shari Blaukopf online sketching and painting course
Being outdoors and painting water — whether the water is still, rushing or falling — fills me with utter joy. 
I'm happiest sitting on the edge of a lake, pond or stream, maybe on a beach or next to waterfalls, sketchbook in hand and brushes at the ready.
On a windless day, there's a beautiful serenity to the reflections in a mirror-still lake. In early spring, there's nothing more exciting than creating the illusion of movement and waves in rushing water. And I love the challenge of trying to simplify the shapes of falling water with the fewest, well-placed strokes.
In Still, Rushing, Falling Water, we'll capture the essence of what I love about each of these scenes. Yes, water can be a challenging subject. But I'll take you through the simple steps I use when sketching on location with ink and watercolour. You'll find that I simplify the process, and make it manageable, as we tackle three different water scenes. 
You'll have the same references images I'm using, so you'll be able to draw and paint right along. Or watch first and paint later. 
We'll start by practicing some quick brush techniques for wet-in-wet painting, edge treatments for splashes and glints on water. And I'll demonstrate how I get the right ratio of water and pigment on my brush. After all, painted water should look wet! 
I'll show you how I paint colour next to colour in pond reflections. Then I'll show you the importance of "less is more" when sketching rushing water. Finally, I'll give you a step-by-step technique for painting the wettest waves. 
When you're done, you'll feel confident sitting near a quiet pond or a rushing stream to sketch your own lively scene. 
If you love to sketch in watercolour and want to feel confident painting bold and fresh water scenes, this course is for you. You'll learn about:
Edges:

 How to use the right brush at the right time to get the best edge on falling water

Wetness:

 It's all about knowing when to have a dripping wet brush for waves or a dry one for texture

Reflections:

 These are simpler than you think — especially once you see how I paint them wet-in-wet

Colour Saturation:

 The freshest results come from getting the right amount of pigment on your brush the first time. Put it down and leave it alone! 

Simplification:

 Once you understand how water and reflections can be simplified in watercolour, the techniques can be applied to any scene, from puddles in the street to waves on the ocean
This course includes:
Three full-length video demonstrations plus a brush technique exercise
Downloadable reference images
A full list of materials
Check out what you'll learn!
Some of what we'll cover in the course: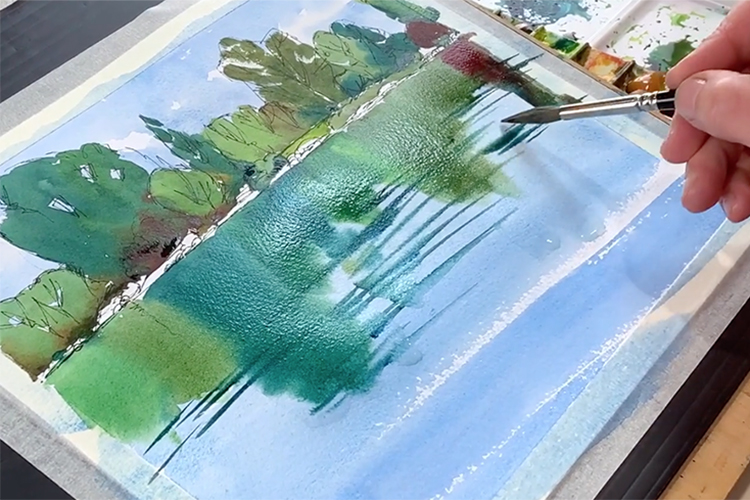 Simplify reflections in Still Water
Reflections are simpler than you think when you paint them wet-in-wet!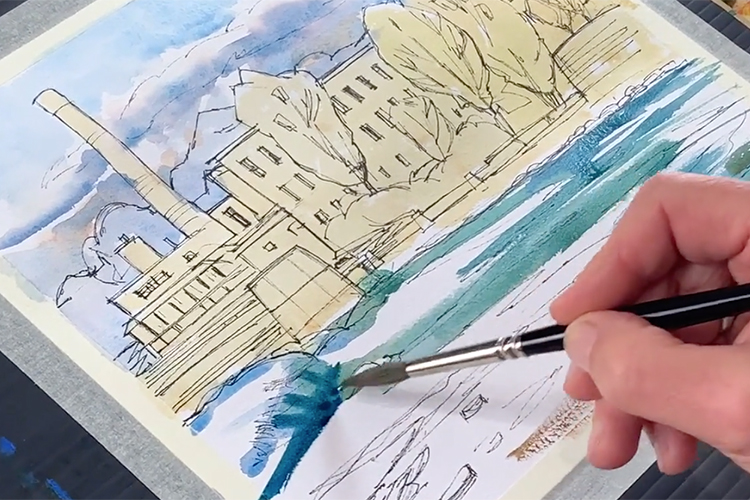 Make waves in Rushing Water
Contrast lights and darks to create movement in a fast flowing river.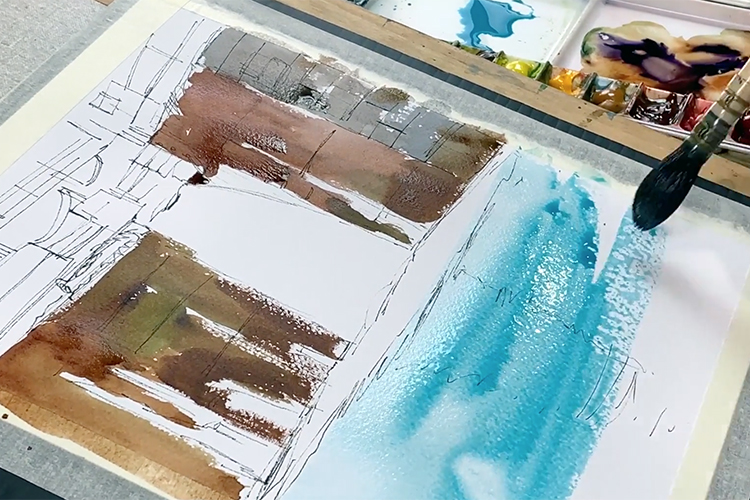 Capture motion in Falling Water
Learn how much water to have on your brush for both waves and falling water.
FAQ
How long is this course?
It's almost three hours in duration, broken up into four lessons.
How long will I have access to this course?
Once you sign up, the course is yours to watch as often as you like.
Who is this course for?
You should have some basic experience drawing, sketching or painting.
What tools will I need?
We'll cover drawing and painting tools in some detail at the start of the course, and you can download a list of materials. If you draw and paint in watercolour, you'll likely have all or most of what need among your art supplies.
Will I have access to all the lessons at once?
Yes, once you register you'll have access to all the lessons so you can start learning, drawing and painting immediately.
Check your inbox to confirm your subscription
Have a look at my other online classes!